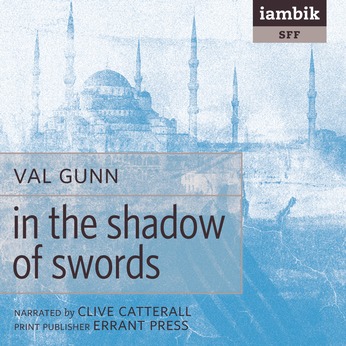 In The Shadow of Swords
Narrator:




Publisher:




Proof-listener:

Mark F. Smith



Length:

10:14:33



File Size:

~ 530 MB



Share:

Sample:
Buy from Audible:
Description
When the assassin Ciris Sarn, murders Hiril Altaïr, he unwittingly leaves behind the legendary Books of Promise. They come into the hands of Hiril's vengeful widow, Marin, and she becomes a target even as she hunts for her husband's murderer. Meanwhile, Fajeer Dassai, a brutal kingmaker, plots to retrieve the fabled treasure to make himself wealthy beyond imagination. His only obstacle is Pavanan Munif, a capable, but drug-addicted tracker. Soon assassins, sheikhs, spies, and viziers are all embroiled in a potentially world-shattering conspiracy racing to an inevitable showdown where violence and murder is the only path to true redemption.
First Line
He was _almost_ there.

Reviews
The killing of Hiril Altaïr by legendary assassin Ciris Sarn results in his being hunted by the victim's widow. At the heart of the matter are four books whose pages contain knowledge of a conspiracy that may have world-shattering consequences. Gunn's (Resonance of Shadows; The Fear Beneath) latest novel introduces a fascinating antihero and a strong-willed heroine against a backdrop that blends Arabian mythology and culture with the timeliness of Middle Eastern political complexities. VERDICT Strong storytelling and vivid characters make this a good choice for most fantasy adventure readers. - LIBRARY JOURNAL
"A promising opener with villains and conspiracies aplenty." — Fantasy Book Review
"Terrific world-building … awesome female player." — The Crooked Crow