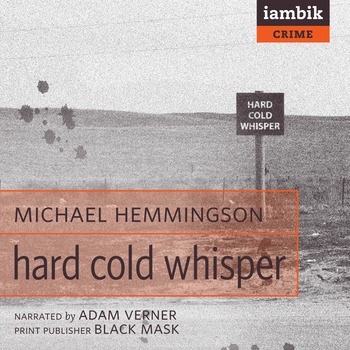 Hard Cold Whisper
Narrator:




Publisher:




Proof-listener:

Nadine Eckert-Boulet



Length:

2:56:25



File Size:

~ 150 MB



Share:

Sample:
Buy from Audible:
Description
David Kellgren is a process server, a job where everyone wants to kill the messenger and things can get a little bit dangerous and out of hand. David is attacked when trying to serve legal papers to a gang member and an angel comes to his rescue: nineteen-year-old Gabriella Amaya, trapped in a large dilapidated house, caring for her dying aunt. This elderly aunt has money, diamonds, and real estate, promised to Gabriella when the aunt dies. Is there any way the sultry caregiver can get her crafty hands on that wealth sooner? And share it with her new lover, the unsuspecting process server who starts to wonder if he's become a patsy in an elaborate murder plot, or if he simply cannot allow himself to truest any woman who says, "I love you." Set in San Diego, Chula Vista, and Tijuana, Hard Cold Whisper is Michael Hemmingson at his finest, most terse and torqued prose in the crime genre. — Hemmingson wrote Hard Cold Whisper as an experiment during the 2010 3 Day Novel Challenge during Labor Day Weekend, a concerted event where writers all over the world participate. The method here pays homage to hardboiled noir master Gil Brewer, who wrote many of his finest Fawcett Gold Medal titles in a possessed, white hot flash fury of several days or a week. Hard Cold Whisper is Hemmingson's nod to the feel and atmosphere of the Gold Medal paperback.
First Line
The blow to the head hurt like a motherfucker.

Reviews
"[Hemmingson's writing] is a twisted mix of sin and redemption." -- American Book Review
"Hard Cold Whisper by Michael Hemmingson has got a classic pulp feel to it but it never lapses in to the retro or pastiche. It is very much a modern story. [...] Endings are tricky for this type of story because of the narrative closure that most readers seek. It's common to see a dark story be told then have the punch pulled at the end. Hard Cold Whisper doesn't pull the punch. [...] The other characters are well developed and the plot pieces slide together smoothly forming the trap. You could see some of the twists and plot developments approach but most of them are well placed, well timed and surprise the reader." -- Spinetingler - Read More
"Hemmingson created suburban noir with his novel Wild Turkey. Now, with Hard Cold Whisper, he creates border noir." -- Louis Kahn Nin, author of Surfboards & Dormrooms
More Metadata!
Iambik Audio ISBN:
9781926673523
Iambik Audio Publication Date:
Jul 15, 2011
Print ISBN:
9781608726189
Print Publication Date:
May 1, 2011
Audio Distribution Rights:
Worldwide
Keywords/tags:
betrayal
,
cartel
,
Crime
,
criminal organization
,
gangster
,
justice
,
love
,
murder
,
suspense
,
thriller