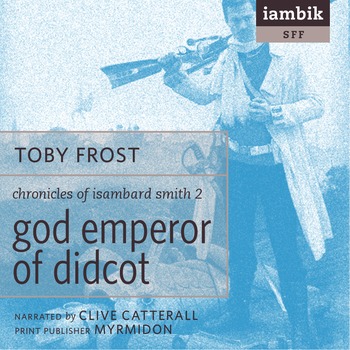 God Emperor of Didcot
Narrator:




Publisher:




Proof-listener:

Elizabeth Medeiros



Length:

7:47:13



File Size:

~ 410 MB



Share:

Sample:
Buy from Audible:
Description
God Emperor of Didcot is the second book of the Chronicles of Iambard Smith.
Tea… a beverage brewed from the fermented dried leaves of the shrub Camellia sinensis and imbibed by all the great civilisations in the galaxy's history; a source of refreshment, stimulation and, above all else, of moral fibre – without which the British Space Empire must surely crumble to leave Earth at the mercy of its enemies. Sixty per cent of the Empire's tea is grown on one world: Urn, principal planet of the Didcot system. If Earth is to keep fighting, the tea must flow. When a crazed cult leader overthrows the government of Urn, Isambard Smith and his vaguely competent crew find themselves saddled with new allies: a legion of tea-obsessed nomads, an overly-civilised alien horde and a commando unit so elite that it only has five members. Only together can they defeat the self-proclaimed God Emperor of Didcot and confront the true power behind the coup: the sinister legions of the Ghast Empire and Smith's old enemy, Commander 462.
First Line
Isambard Smith ran ten yards before the jungle burst open behind him and a mass of tentacles the size of a house threw a tree-trunk at his head.

Reviews
The sci-fi world Smith inhabits is very much Blackadder meets Red Dwarf. There is a lot of gentle mockery, both of the British and Johnny Foreigner. Moments of amusement are almost constant, and some parts are quite hilarious. [...] The author doesn't get bogged down with scientific technicalities, and the plot is nice and fast-paced. -- Thaddeus the Sixth -Read More
[...] delightfully hilarious, full of dry wit and jabs at sf classics. As you can tell by the title, its plot is inspired by the Dune series. There are references to a multitude of other sf stories as well. Carveth wakes up complaining about that dream of electric sheep again, for example. -- Goodreads - Read More
The characters are just as much fun this time and the new ones fit in perfectly. The dialogue is witty, enjoyable and never drags on, even during the duller moments (of which there are very few). The bad guys are great and in such a way that is perhaps even more entertaining than the good guys, at least some of the time! -- Walker of Worlds - Read More