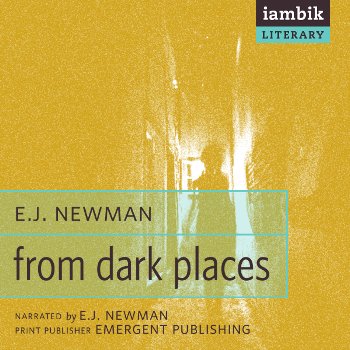 From Dark Places
Publisher:




Proof-listener:

Susan Claybrook



Length:

4:31:54



File Size:

~ 430 MB



Share:

Sample:
Buy from Audible:
Description
From Dark Places is a collection of dark short stories. Abby finds a creative solution to her father's problems. Ben makes a pact with the Devil for a new Mum. Katie is pursued by unrelenting voices. John just found his colleague's hand in a strange girl's lap. Jarvis is falling apart on his wedding day. Rosalind comes face-to-face with her number one fan. And that is just the beginning.
First Line
Katie carried a small claw hammer and seven galvanised box nails wrapped in a handkerchief.

Reviews
Every tale in this collection is delightful, spooky, creepy. Emma Newman is a master at saying just enough to make your own imagination give you goosebumps, and her characters are clear and well-defined. -- Gracie Motley
Newman is unafraid to explore the darker side of fiction and, by extension, life. The stories are by turns touching and funny and heartwarming. And dark. In places very, very dark. Leave the light on. -- Dan Powell, 2010 Yeovil Literary Prize winner
Gods, demons and angels inhabit these pages, as much at home as the cheating spouses, spurned lovers and ugly, foul-mouthed orphans. Newman is a powerful emerging voice in dark fiction. I'll be watching out for more of her stuff. You should too. -- Alan Baxter , Author of 'RealmShift' and 'MageSign'
More Metadata!
Iambik Audio ISBN:
9781926673776
Iambik Audio Publication Date:
Sep 21, 2011
Print ISBN:
9780980744651
Print Publication Date:
Mar 1, 2011
Audio Distribution Rights:
Worldwide
Keywords/tags:
creepy
,
dark
,
speculative fiction