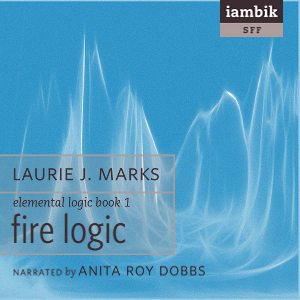 Fire Logic (Elemental Logic Book 1)
Narrator:




Publisher:




Proof-listener:

Elizabeth Medeiros



Length:

13:29:40



File Size:

~740 MB



Share:

Sample:
Buy from Audible:
Description
This is the first book of the Elemental Logic series. The second book is Earth Logic.
Earth * Air * Water * Fire
These elements have sustained the peaceful people of Shaftal for generations, with their subtle powers of healing, truth, joy, and intuition.
But now, Shaftal is dying.
The earth witch who ruled Shaftal is dead, leaving no heir. Shaftal's ruling house has been scattered by the invading Sainnites. The Shaftali have mobilized a guerrilla army against these marauders, but every year the cost of resistance grows, leaving Shaftal's fate in the hands of three people: Emil, scholar and reluctant warrior; Zanja, the sole survivor of a slaughtered tribe; and Karis the metalsmith, a half-blood giant whose earth powers can heal, but only when she can muster the strength to hold off her addiction to a deadly drug.
Separately, all they can do is watch as Shaftal falls from prosperity into lawlessness and famine. But if they can find a way to work together, they just may change the course of history.
Original background cover art by Big Grey Mare.
First Line
In the border regions of northern Shaftal, the peaks of the mountains loom over hardscrabble farmholds.

Reviews
"A deftly painted story of both cultures and magics in conflict."--Robin Hobb
"Marks is an absolute master of fantasy in this book."--Booklist (starred review)
"A work that is filled with an intelligence that zings off the page."--Publishers Weekly (starred review)
More Metadata!
Iambik Audio ISBN:
9781927472217
Iambik Audio Publication Date:
Feb 6, 2013
Print ISBN:
9780812566536
Print Publication Date:
Mar 1, 2004
Audio Distribution Rights:
Worldwide
Keywords/tags:
alternative families
,
elemental logic
,
fromwar to peace
,
happiness
,
hardship
,
humor
,
magic
,
overcoming addiction
,
Shaftal
,
social diversities
,
witches