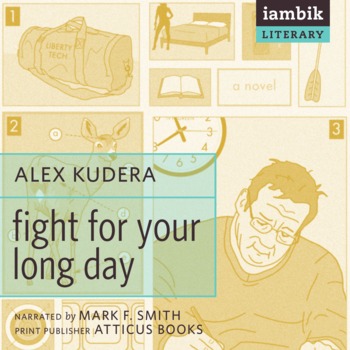 Fight For Your Long Day
Narrator:




Publisher:




Proof-listener:

Linda Andrus



Length:

10:37:38



File Size:

~ 560 MB



Share:

Sample:
Buy from Audible:
Description
Fight For Your Long Day is a day-in-the-life tragicomedy that follows the eventful unraveling of Cyrus Duffleman, a portly, down-and-out educator who teaches classes at four urban universities and works the night shift, all so he could barely stay afloat in an increasingly "efficient" service economy.
This dark satire, set in the modern, super-information age of "terror squared," embodies the American-made irony of being an overworked, overwrought and marginalized citizen in a once-wealthy and industrious country.
Watermark plot points twist and turn as students protest, get laid, practice murder, and commit suicide, while "Duff," the novel's lovable loser, trudges along from pillar to post with his overstuffed book bag and perversely cynical thoughts.
First Line
Even on his long day, Cyrus Duffleman enjoys the fact that he can sip strong coffee and watch TV news before leaving his apartment five minutes past the opening bell of the New York Stock Exchange.

Reviews
''Like a subway-scholar Ignatius J. Reilly (A Confederacy of Dunces), adjunct instructor Cyrus Duffleman channels the rage of the academic underclass. The torments Duffleman suffers chasing across a light-rail and campus-common Philadelphia show an acute eye for all the absurdity and humiliation doled out over a long day of academic piece-work. Alex Kudera's novel makes lemonade out of the knowledge economy's stingy share of lemons, eking every ounce of catharsis owed to veterans of the core curriculum's front lines.''-- Justin Bauer, books columnist, Philadelphia City Paper
''Fight For Your Long Day is an original, witty, uncompromising expose of how we live now: Homeland Security shadowing us, poverty, especially the less than genteel poverty of adjunct English instructors, the 'war on terror' invading our consciousness, and all around hopelessness for too many. Kudera has the courage to blast the truisms fed by the mainstream culture, but he locates some heroes too. This is a brilliant first novel.''-- Joan Mellen, author of A Farewell to Justice
Part absurdist romp and part manifesto for the neglected campus working class, Kudera's book caroms through the single working day of English adjunct professor Cyrus Duffleman, a quixotic hero on the intellectual ropes trying to survive the bash and trash mentality of contemporary higher education's bottom line economics. Kudera is an extremely talented and driven novelist. The authenticity of the experience he writes about burns through on each page. The story of Duffleman and his many similarly suffering peers in the real academic world is a plight long overlooked finally getting its deserved attention. -- Charles Dodd White - Read More
More Metadata!
Iambik Audio ISBN:
9781926673707
Iambik Audio Publication Date:
Aug 17, 2011
Print ISBN:
9780984510504
Print Publication Date:
OCt 1, 2010
Audio Distribution Rights:
Worldwide
Keywords/tags:
economics
,
eudcation
,
history
,
humor
,
Philadelphia PA
,
politics
,
professor
,
sexual fantasies
,
social commentary
,
university