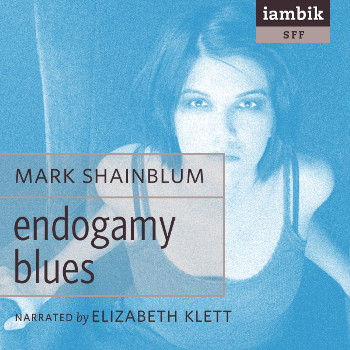 Endogamy Blues
Narrator:




Publisher:




Proof-listener:

Betsie Bush



Length:

1:33:5



File Size:

~ 80 MB



Share:

Sample:
Buy from Audible:
Description
The neo-fascist armies of the Liberator have swept across the Americas like a plague. Montreal is in flames, and the front is less than a kilometre away.
Seventeen year-old Private Joanie Morgernstern can expect no mercy from the victors. As a Canadian soldier, an Augmented Human and a Jew, she is a blood enemy to the Liberator three times over. Aircraftman Michael Cross, 16, a technician in the Air Force of the Iroquois Six Nations, is on the same hitlist. Their fanatically racist enemies will show them no quarter and no mercy.
Swept up in Canada's last, desperate attempt to stave off defeat, Joanie and Mike expect nothing but death. Instead, they find each other.
Ebook available from Smashwords, Amazon and DriveThruFiction.
First Line
Montreal was burning.

Reviews
"Mark Shainblum does military SF intelligently and gracefully in 'Endogamy Blues.'" -- Paul Di Filippo, Asimov's Science Fiction
"(The Island Dreams anthology) closes on a high note with another of its best moments, 'Endogamy Blues' by Mark Shainblum… It's exciting and full of interesting ideas…" -- Kit O'Connell, SFSite.com
"Shainblum creates an elaborate future in which humans on Earth have been abandoned by those who have colonized other planets… A heartfelt story." -- James Schellenberg, Challenging Destiny
More Metadata!
Iambik Audio ISBN:
9781926673905
Iambik Audio Publication Date:
Nob 23, 2011
Audio Distribution Rights:
Worldwide
Keywords/tags:
adolescence
,
Canada
,
dystopian
,
female heroine
,
genocide
,
identity
,
military
,
space
,
travel
,
war