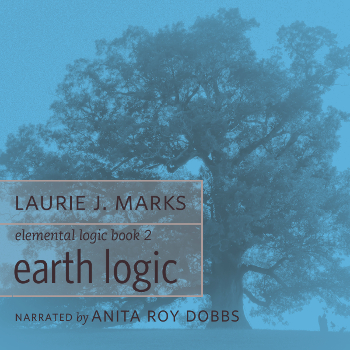 Earth Logic (Elemental Logic Book 2)
Narrator:




Publisher:




Proof-listener:

Philip Mather



Length:

15:24:48



File Size:

800MB



Share:

Sample:
Buy from Audible:
Description
This is the second book of the Elemental Logic series, preceded by Fire Logic.
Earth * Air * Water * Fire
A sweeping drama of war, intrigue, magic, and love.
With Earth Logic, Laurie J. Marks continues the epic of her stunningly imagined world of Shaftal, which she first introduced in Fire Logic.
Shaftal has a ruler again, a woman with enough power to heal the war-torn land and expel the invading Sainnites from Shaftal. Or it would have a ruler if the earth witch Karis G'deon consented to rule. Instead, she lives in obscurity with the fractious family of elemental talents who gathered around her in Fire Logic. She is waiting for some sign, but no one, least of all Karis herself, knows what it is.
Then the Sainnite garrison at Watford is attacked by a troop of zealots claiming to speak for the Lost G'deon, and a mysterious and deadly plague attacks the land, killing both Sainnites and Shaftali. Karis must act or watch her beloved country fall into famine and chaos. And when Karis acts, the very stones of the earth sit up and take notice.
Original background cover art by Ted Hodges.
First Line
One day, Raven was bored.

Reviews
"With this follow-up to 
Fire Logic,
 Marks produces another stunner of a book. The powerful but subtle writing glows with intelligence, and the passionate, fierce, articulate, strong, and vital characters are among the most memorable in contemporary fantasy, though not for the faint of heart. Definitely for the thinking reader." — 
Booklist
 (starred review)
"Twenty years after the invading Sainnites won the Battle of Lilterwess, the struggle for the world of Shaftal is far from finished in Marks's stirring, intricately detailed sequel to Fire Logic. . . . Full of love and humor as well as war and intrigue, this well-crafted epic fantasy will delight existing fans as surely as it will win new ones." — Publishers Weekly
"The sequel to 
Fire Logic
 continues the tale of a woman born to magic and destined to rule. Vivid descriptions and a well-thought-out system of magic." — 
Library Journal
"Rich and affecting. . . . A thought-provoking and sometimes heartbreaking political novel." — 
BookPage
"Intelligent, splendidly visualized, and beautifully written. Laurie Marks's use of language is really tremendous." — Paula Volsky
"A dense and layered book filled with complex people facing impossible choices. Crammed with unconventional families, conflicted soldiers, amnesiac storytellers, and practical gods, the story also finds time for magical myths of origin and moments of warm, quiet humor. Against a bitter backdrop of war and winter, Marks offers hope in the form of various triumphs: of fellowship over chaos, the future over the past, and love over death." — Sharon Shinn
More Metadata!
Iambik Audio ISBN: 9781927472521
Iambik Audio Publication Date: Feb 16, 2015
Print ISBN: 9781618730930
Print Publication Date: Aug 18, 2014
Audio Distribution Rights: Worldwide