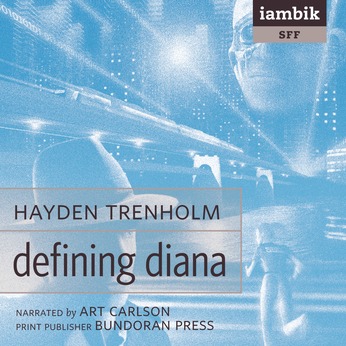 Defining Diana
Narrator:




Publisher:




Proof-listener:

Susan Claybrook



Length:

9:45:15



File Size:

~ 515 MB



Share:

Sample:
Buy from Audible:
Description
Defining Diana is Book 1 of the Steele Chronicles.
Found naked and alone in a locked room. The beautiful woman was in perfect health – except she was dead…
It's 2043 and much has changed: nuclear war, biotechnology and all-powerful corporations have ruled the world… Now science is taking DNA manipulation to new, unrestricted levels.
Superintendent Frank Steele is an old-fashioned cop. He commands a small, elite police unit that is handed all of the bizarre and baffling cases no one else can solve. He knows the money, the murders, missing persons and gruesome body shops are all connected. He knows it starts with the girl…
First Line
The woman was lying on her back when her body was found.

Reviews
"Defining Diana manages to feel true to both its hardboiled and its futuristic roots. The writing presents an interesting mash-up of pulp dialogue and well-researched scientific theory. The novel's characterizations of the SDU's troubled and conflicted officers is also top notch. Trenholm's solid police procedural, set in a cyberpunk Calgary, will appeal to mystery and science fiction fans alike." --Chadwick Ginter - Read More
"Steel Whispers is an edge-of-your seat amalagam of police procedural and razor-sharp science fiction. The streets of Calgary never seemed so mean! Fans of Dashiell Hammett and William Gibson both will love this; a great novel from one of Canada's fastest-rising SF stars." --Robert J. Sawyer, Hugo Award-winning author of Wake.
"A taut, near-future police procedural with a plot as sinewy as that cyborg snake in Blade Runner. Hayden Trenholm works the mean streets and millionaires' mansions of mid-21st century Calgary and comes up with a winner." —Matthew Hughes, Author of the Tales of Henghis Hapthorn.