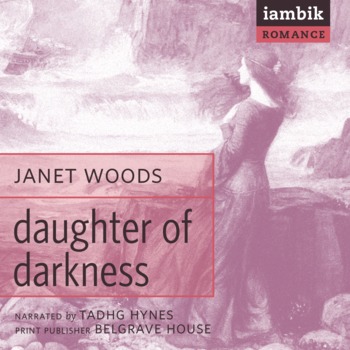 Daughter of Darkness
Narrator:




Publisher:




Proof-listener:

Elizabeth Medeiros



Length:

8:52:21



File Size:

~ 465 MB



Share:

Sample:
Buy from Audible:
Description
Four years after being drugged and tricked into marriage with fourteen-year old Willow Givanchy, the unwanted daughter of his deadliest enemy and a reputed witch, Gerard Lytton returns home from America to find his wife and family changed. His mother is dead and his child bride has become a beautiful and capable woman, who has taken her place as mistress of the estate. His father is ill and close to death.
Brought up in Ireland by a male tutor, Willow excels in the manly arts of fencing and shooting. She has become well-loved within the Lytton family circle, and has lost none of her fiery independence, even while she longs to take her place by her husband's side and become a "proper" wife to him.
But although nobly born, Willow cannot deny her mother's dark reputation, or her father's dishonour . . . and neither can Gerard forget it. Willow's past becomes a problem to them both even while they fall in love. When Willow's mother appears, it coincides with that of a raven. A series of mysterious events unfold and they cause an obstacle that threatens to tear Gerard and Willow apart for ever.
Cover background image: JW Waterhouse, "Miranda-The Tempest"
First Line
An icy stream of wind blew through a broken window behind the altar.

Reviews
Major prize winner. Australian Woman's Day Romantic Fiction award. (From judge's report) "Highly entertaining story, skilful writing. interesting characters and good dialogue. Romance well developed, clever plotting generating suspense and reader involvement."
Winner. 2002 Australian 2002 Romantic book of the year award 2002 (mainstream section) Awarded by: Romance Writers of Australia.
"A touch of the occult, an undertone of depravity, a link to the social pressures caused by the enclosure of land and an end to the three-field system lifts this book above the generality of historical romances. The plot if complicated by relationships from the past, which play a critical part as the love affair between the two protagonists develop. Characters are well drawn. There is a well-judged exposition of their relationships and good interaction. The dramatic scenes are full of tension and the sense of adventure creates the necessary frisson up the spine. In all an excellent story which drives the reader on to the conclusion without wishing to put it aside. Hell on the sleeping habits but the test of a worthwhile book." -- Wendy Evans. In Print. Society of Women Writers, WA.