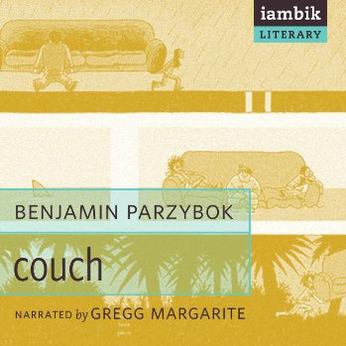 Couch
Narrator:




Publisher:




Proof-listener:

Elizabeth Medeiros



Length:

10:52:12



File Size:

~ 550 MB



Share:

Sample:
Buy from Audible:
Description
Couch. A novel. An odyssey. An epic furniture removal. A road trip. An exuberant and hilarious debut in which an episode of furniture moving gone awry becomes an impromptu quest of self-discovery, secret histories, and unexpected revelations.
Thom is a computer geek whose hacking of a certain Washington-based software giant has won him a little fame but few job prospects. Erik is a smalltime con man, a fast-talker who is never quite quick enough on his feet. Their roommate, Tree, is a confused clairvoyant whose dreams and prophecies may not be completely off base.
After a freak accident floods their apartment, the three are evicted—but they have to take their couch with them. The real problem? The couch—huge and orange—won't let them put it down. Soon the roommates are off on a cross-country trek along back roads, byways, and rail lines, heading far out of Portland and deep into one very weird corner of the American dream.
First Line
From above, from a thousand feet up, an eagle's-eye view, it's a strange spectacle still. A six-legged insect, stiff and ungainly, too long on the grape vine gone to vinegar.

Reviews
"Delightfully lighthearted writing. . . . Occasionally laugh-out-loud funny, the enthusiastic prose carries readers through sporadic dark moments . . . Parzybok's quirky humor recalls the flaws and successes of early Douglas Adams." —Publishers Weekly

"Beyond the good old-fashioned story, Couch meditates on heroism and history, but above all, it's an argument for shifting your life around every now and then, for getting off the couch and making something happen." —The L Magazine

"What I like about the novel is its epic scope and the constant, unapologetic insistence that there is something magical about this inanimate piece of furniture." —Andrew McCarthy