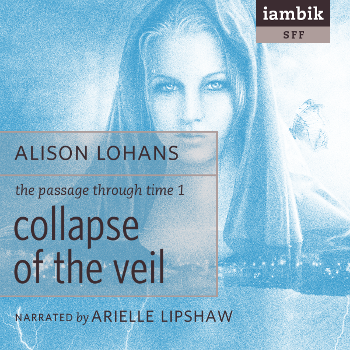 Collapse of the Veil
Narrator:




Publisher:




Proof-listener:

Mary McCullough



Length:

5:47:23



File Size:

~ 300 MB



Share:

Sample:
Buy from Audible:
Description
Collapse of the Veil is the first book of the Passage Through Time series.
Escaping her home routine for a few hours, 16-year-old Katie grabs her bike and leaves behind her cranky baby, hyperactive brother and struggling single mom. Flopping down in a field to rest, Katie brushes against an enchanted willow and falls into a dying world far in the future. The few survivors cling to their lore – tales of terrible destruction that are about to fall upon Katie's home.
Time travel, psychic phenomena and human emotion all play key roles in the juncture of these two vastly diverse societies. Katie must set aside the normal goals of a typical teenager and decide if she can be the one to help save her two worlds.
First Line
He was crying again. Katie Nevill sucked in a sharp breath. It was tempting to do exactly what Tyler did, lie there squalling until someone took care of you.

Reviews
"A tenderly urgent journey through time, love, apocalypse and unexpected hope. Readers will emerge with new insights for our world's problems and possibilities." -Sharon Plumb, author of Draco's Child.