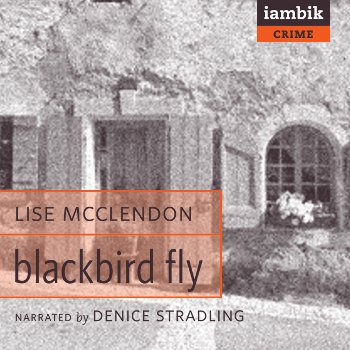 Blackbird Fly
Narrator:




Publisher:




Proof-listener:

Mary McCullough



Length:

10:28:29



File Size:

~ 550 MB



Share:

Sample:
Buy from Audible:
Description
The sudden death of her husband turns Merle Bennett's life upside down. She finds herself doing what she least expected, decamping to France for the summer to fix up the ancestral home. The village in southwest France should be idyllic: warm sunshine, vineyards, and walls of golden stone. As the past unravels, colliding with modern tensions and the filthy trials of renovation, the summer takes on a dark cast, full of secrets best left buried.
In her first stand-alone suspense novel, Lise McClendon reaches deep into the past to find a France untouched by the outside world of tourism and fashion. Writing in a "lyrical, often humorous style," she brings both the pain and rewards of rebirth and the rich French countryside to life.
First Line
On the day Harold Strachie died New York City struggled to slough off the lingering chill of winter and he struggled with his spare tire.

Reviews
This is a book that . . . one might class as a literary suspense novel. A great deal goes into character growth and change, and McClendon's obvious love for the French countryside is evident in her description of land and people. If one is looking for a slam-bang action yarn, look elsewhere; BLACKBIRD FLY is a rewarding read for the discerning. -- The GenReview.com
Stuck in France, Merle Bennett sets to work on the house, where she discovers many tantalizing secrets and horrifying mysteries. Many characters have you guessing at their motives and no one seems entirely trustworthy in this foreign place. But, the thrill of the mystery and the luxury of fine French wines may be just what Merle needs to deal with her husband's death and her own idiosyncratic widowhood. The effort she puts into the house and into deciphering its past helps her pull through the present and anticipate all the possibility of the future. The descriptions of the French village and house brought them to life, making them a character with very much influence on Merle's experience. Blackbird Fly has love and intrigue, and proof that family bonds are strong enough to reach across oceans and beyond the grave. -- LuxuryReading.com
More Metadata!
Iambik Audio ISBN:
9781926673783
Iambik Audio Publication Date:
Nov 9, 2011
Print ISBN:
9780981944272
Print Publication Date:
May 1, 2009
Audio Distribution Rights:
Worldwide
Keywords/tags:
betrayal
,
family
,
France
,
greed
,
inner strength
,
murder
,
mystery
,
ostracism
,
Romance
,
wine-making