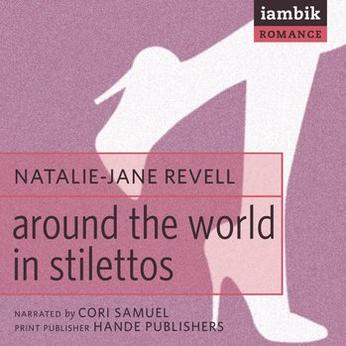 Around the World in Stilettos
Narrator:




Publisher:




Proof-listener:

Linda Andrus



Length:

6:11:58



File Size:

~ 325 MB



Share:

Sample:
Buy from Audible:
Description
Twenty Three year old Sophie Farrier has everything a girl could want; the perfect job, the perfect flat and the perfect set of friends. As a travel writer, Sophie gets to fly around the world, meet new people, see new places and most importantly buy more shoes! When she is home her life speeds past in a blur of boozy nights, girly lunches and maxing her cards in her favourite shops. There are only two problems in her otherwise blissful life; dealing with the curse of being the clumsiest person alive, and the man she is obsessively in love with, Dan Shorely, already has a perfect girlfriend. The one aspect of Sophie s life that is not perfect and never has been is her love life. After years of misunderstandings and missed opportunities, are things about to change? Will she ever find and catch her perfect man? Or will the dream of a happy ending and the dream man always be that… just a dream?
First Line
I feel slightly apprehensive as I walk down the stairs towards the doors of the almost hidden room.

Reviews
Cori Samuel beautifully brings Sophie to life in the most engaging and entertaining way; the personal tone flawlessly conveys Sophie's point of view, in a way that makes you care about her decisions as one her best friend would do. -- If you enjoy books like The Bridget Jones's diary, and you love the Shopaholic books than you would find Sophie's story very entertaining, or if you just want a light romantic listen with well developed - charming, characters, a beautifully descriptive and amusing narrative you'll find Sophie's drama hard to put down or in this case, hard to stop listening to. -- Audiobook review, Hot Listens Romance Audiobooks - Read More
I read this book in two days - just couldn't put it down! If you love the shopaholic books, you will love this. Superb book for taking on holiday and reading on the beach. My daughter has borrowed my copy and is loving it too. Thoroughly recommended. I can't wait for the sequel to come out. -- Amazon Review
This is such a funny book with charming characters - I loved it and can't wait for the next two additions to this series. -- Amazon Review
More Metadata!
Iambik Audio ISBN:
9781926673585
Iambik Audio Publication Date:
Jul 27, 2011
Print ISBN:
9781906873400
Print Publication Date:
Jun 24, 2010
Audio Distribution Rights:
Worldwide
Keywords/tags:
alcohol
,
Britain
,
chick-lit
,
friendship
,
funny
,
humor
,
marraige
,
rom-com
,
Romance
,
shoes
,
travel
,
weddings