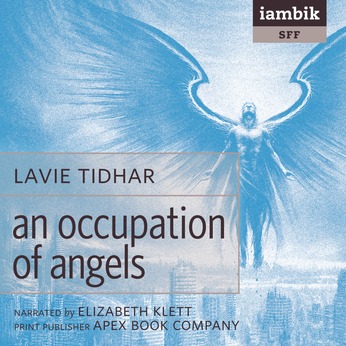 An Occupation of Angels
Narrator:




Publisher:




Proof-listener:

Nadine Eckert-Boulet



Length:

3:22:36



File Size:

~ 180 MB



Share:

Sample:
Buy from Audible:
Description
After Archangels materialise over the bloodbaths of WWII, they take up residence in most of the world's major cities. But what would happen if, more than quarter of a century later, something somehow managed to kill these supreme beings? Killarney knows and, as an agent working for the Bureau, a British agency that's so secret it doesn't officially exist, she finds herself embroiled in the consequences as, one by one, the Archangels die.
Assigned to trace a missing cryptographer thought to have information on the murders, she travels from England, through France, heading for the frozen wastes of the USSR. But there's an unknown third party intent on stopping her, and there's God, who also has an agenda. Not knowing who is friend and who is foe, and with only a brief glimpse of a swastika on angel wings as solid information, Killarney struggles to remain alive long enough to glean sufficient information to put together the pieces of the puzzle and complete what is, without them, an impossible mission.
First Line
The gun was under the pillow and so I used it, emptying three bullets that tore through his torso before exploding, the crystal casing fragmenting and the blood inside hissing as it touched skin.

Reviews
"We travel with the protagonist from historic Paris to the remote, frozen wastelands of Siberia and beyond, perhaps even to Heaven itself. The action scenes are well-written and compelling. This is an adventure story, plain and simple." –Skull Salad Reviews, TJ McIntyre
"An Occupation of Angels is exhausting, but in a good way. Tidhar delivers a supernatural spy novella that gallops along at a break-neck pace. True to his usual form, Tidhar drops you into the middle of the action, only feeding you pieces of information as they naturally come up in the story. The result is that you're endlessly intrigued, both by what's happening, and where and when it's happening. Tidhar never falls into the trap of standing back and admiring the alternative history he's created. Rather, he uses it, with all its richness and mystery, as an effective backdrop to a cinematic thriller, and the reader is left hungry for more." –The Bookslave, J. Blackmore
"An Occupation of Angels is a breathless adventure story, finely crafted and rammed home with the assured confidence of an author very much in his stride." –SFRevue.com
More Metadata!
Iambik Audio ISBN:
9781926673349
Iambik Audio Publication Date:
May 18, 2011
Print ISBN:
9780984553532
Print Publication Date:
OCt 2, 2010
Audio Distribution Rights:
Worldwide
Keywords/tags:
angels
,
Britain
,
cryptography
,
espionnage
,
Nazi
,
Paris
,
scifi
,
secret agent
,
secrets
,
Siberia
,
thriller
,
war