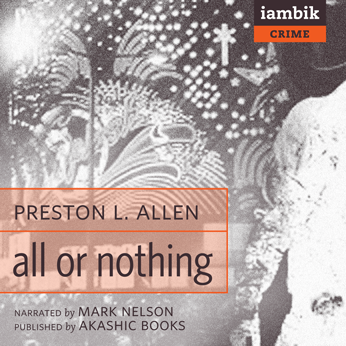 All Or Nothing
Narrator:




Publisher:




Proof-listener:

Mary McCullough



Length:

7:38:43



File Size:

~ 200 MB



Share:

Sample:
Buy from Audible:
Description
Preston L. Allen's witty, charming, and very likable school bus driver, named P, is a desperate gambler. He has blown the hundred thousand dollars he won at the casino six months ago, but his wife and family still think he's loaded. P spins out of control on the addict's downward spiral of dependency, paranoia, and depression, as he must find ways to keep coming up with the money to fool his family and fund his growing addiction. The bets get bigger and bigger, until finally, faced with the ultimate financial crisis, he hits it really big. Yet winning, he soon learns, is just the beginning of a deeper problem.
The one constant for P–who rises from wage-earner to millionaire and back again in his roller-coaster-ride of a life–is that he must gamble. That his son has died, that his wife is leaving him, that his girlfriend has been arrested, that he has no money, that he has more money than he could ever have dreamed–are all lesser concerns for P as he constantly seeks out new gambling opportunities.
While other books on gambling seek either to sermonize on the addiction or to glorify it by highlighting its few prosperous celebrities, All or Nothing is an honest, straightforward account of what it is like to live as a gambler–whether a high-rolling millionaire playing $1,000-ante poker in Las Vegas or a regular guy at the local Indian casino praying for a miracle as he feeds his meager life savings into the unforgiving slot machine. All or Nothing is the first novel to dig beneath the veneer to explore the gambler's unique and complex relationship with money. If you've ever wanted to get into the heart and psyche of a compulsive gambler, here is your chance.
First Line
You call your job and whisper, I don't feel good. I can't come in.

Reviews
While this is a good—but not a great—story, there's something engaging about it nonetheless. The main character, known only as "P", is a school bus driver and compulsive gambler who spends virtually every free minute in casinos. The story could have come across like a case study of the dangers of gambling. But narrator Mark Nelson captures P's conflicted emotions and transforms him into a surprisingly likable character. Nelson's calm, measured tone also allows listeners to empathize with the dark characters who populate the casinos. When P's life tragically impacts his family, Nelson excels in depicting every ounce of emotion in the story. -- AudioFile Magazine - Read More
"All or Nothing is a breathless tour through the mind of P, a gambling junkie who divines lucky numbers everywhere, even in the mumblings of his severely asthmatic son as he comes out of anaphylactic shock. Winning the bet is the only thing. And money has little value except as a means to place the next one. Preston Allen's writing is as tight as a high wire. Out of the hyperkitsch world of gamblers and the casinos they inhabit, Allen creates a novel that is frightening and sad and thrilling." --Gonzalo Barr, author of The Last Flight of Jose Luis Balboa
"Allen has done for gambling what William S. Burroughs did for narcotic addiction. He's gotten into the heart of the darkness and shown us what it feels like to be trapped, to be haunted, to live without choice. Allen is relentless and unsparing in his depiction of the life of a gambling addict, from the magical thinking to the visceral thrill of risking it all. And now the world will know what we in Miami have known for a long time: Preston L. Allen is so good a writer it's scary." --John Dufresne, author of Johnny Too Bad