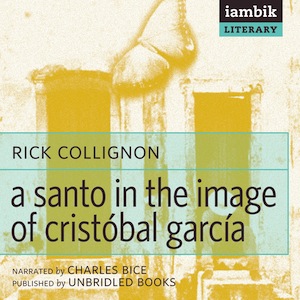 A Santo in the Image of Cristóbal García
Narrator:




Publisher:




Proof-listener:

Mary McCullough



Length:

8:35:33



File Size:

~ 450 MB



Share:
Buy from Audible:
Description
A Santo is the third book of the Guadalupe Series.
The gentle-hearted Flavio Montoya returns, now as the aged scion of his family, still tending his sister Ramona's fields and wondering how all of his family could have died before him. When the mountains surrounding Guadalupe erupt in flames, the history of the village seems to be set loose in the smoke. The dead arrive and the silent speak. When Flavio is accused of starting the fire that quickly threatens to consume the village, the disaster becomes one more mystery that he must fold into his own memory, though he cannot quite understand any of it.
A Santo in the Image of Cristóbal García is a beautiful, funny, even epic tale of how all history is finally personal.
First Line
Felix wasn't exactly sure just when it was he began to know that he was seeing.

Reviews
"Moving...evocative." --Booklist
"Dreamlike and melancholy...a worthy read." --Publishers Weekly
"His rich story, unfolding and refolding, flickers almost palpably between shadow and light." --The Santa Fe New Mexican
More Metadata!
Iambik Audio ISBN:
9781926673318
Iambik Audio Publication Date:
Apr 13, 2011
Print ISBN:
9781936071623
Print Publication Date:
Jun 1, 2010
Audio Distribution Rights:
Worldwide
Keywords/tags:
curse
,
disaster
,
fire
,
Gauadalupe
,
Hispanic-American culture
,
magical realism
,
New Mexico
,
revenge
,
small town