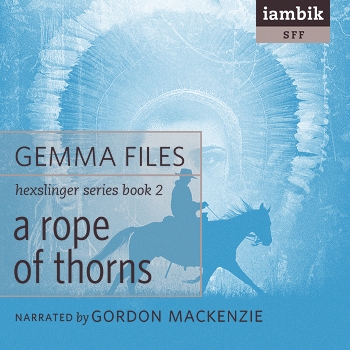 A Rope of Thorns
Narrator:




Publisher:




Length:

12:59:10



File Size:

~ 730 MB



Share:

Sample:
Buy from Audible:
Description
You must let blood to get blood.
New Mexico, 1867. As consort to resurrected Mayan goddess Ixchel, hexslinger "Reverend" Asher Rook has founded "Hex City," the first place in all of human history where magicians can live and work together safely. But this tenuous peace is is threatened by the approach of Rook's former lover, Chess Pargeter, bent on revenge over Rook's betrayal, as he kills his way toward the very same spot, dragging Pinkerton agent-turned-outlaw Ed Morrow along with him. Because Chess, sacrificed in Ixchel's name, has become far more than just a hex: his very presence has torn a crack in the world, remaking everything around him. And as the cycle of Chess's power approaches its climax, Chess, Morrow, and a young spiritualist named Yancey Colder—caught up in Chess's vendetta—will all have to shed yet more blood as they face down his mysterious patron demon, known only as the Enemy . . . along with every other enemy Chess has already made along the way.
First Line
From Tampico, Mexico to Yuma City, Arizona, by private train; Legendary successes of the Conquistadors confounded!—Gods of Old Mexico apparently returned—Mexico City in ruins—Earthquake, Fire & Rioting—At fault: Hexslinger "Reverend" Asher E. Rook, lately of Arizona and parts thereto adjacent.

Reviews
This sequel to A Book of Tongues paints a stark, vivid, and gory picture of the 'wild west' in the years following the Civil War. . . . Filled with antiheroes, sacrificial victims, and supernatural beings, Files's latest is not for the squeamish but should delight fans of gothic Western fantasy and Central American myths. –Library Journal - Read More
Potent mythology, complex characters, and dollops of creeping horror and baroque gore establish Files's Hexslinger series as a top-notch horror-fantasy saga. –Publishers Weekly - Read More
For those who yearn for the next Harry Potter-like series, be warned; the brave and resourceful Harry would have been dead and his body desecrated and defiled within five minutes in Files' universe. . . . Where is Files going with all this? I cannot tell, except that the finale will no doubt be apocalyptic in scope, a battle which will make Potter's last stand at Hogwarts seem a slap fight between fifth graders. –Corey Redekop, Shelf Monkey - Read More