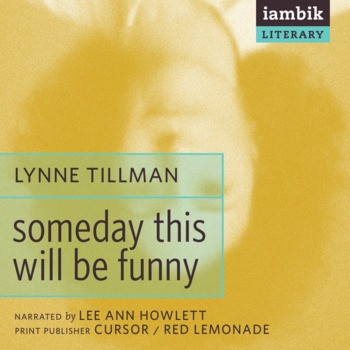 Someday This Will Be Funny
Narrator:




Publisher:




Proof-listener:

Betsie Bush



Length:

4:23:22



File Size:

~ 230 MB



Share:

Sample:
Buy from Audible:
Description
The stories in Some Day This Will Be Funny marry memory to moment in a union of narrative form as immaculate and imperfect as the characters damned to act them out on page. Lynne Tillman, author of American Genius, presides over the ceremony; Clarence Thomas, Marvin Gaye, and Madame Realism mingle at the reception. Narrators—by turn infamous and nameless—shift within their own skin, struggling to unknot reminiscence from reality while scenes rush into warm focus, then cool, twist, and snap in the breeze of shifting thought. Epistle, quotation, and haiku bounce between lyrical passages of lucid beauty, echoing the scattered, cycling arpeggio of Tillman's preferred subject: the unsettled mind. Collectively, these stories own a conscience shaped by oaths made and broken; by the skeleton silence and secrets of family; by love's shifting chartreuse. They traffic in the quiet images of personal history, each one a flickering sacrament in danger of being swallowed up by the lust and desperation of their possessor: a fistful of parking tickets shoved in the glove compartment, a little black book hidden from a wife in a safe-deposit box, a planter stuffed with flowers to keep out the cooing mourning doves. They are stories fashioned with candor and animated by fits of wordplay and invention—stories that affirm Tillman's unshakable talent for wedding the patterns and rituals of thought with the blushing immediacy of existence, defying genre and defining experimental short fiction.
Cover background image by Charles Orr
First Line
A while back, I watched a pair of mourning doves in their nest every day, watched as one then the other sat on an egg; saw their baby emerge from the egg, watched its being carried food and fed, saw them all fly away one late summer morning, never to return, I thought.

Reviews
Despite the claim of the title, "Someday This Will Be Funny," you wouldn't want to reach for Lynne Tillman's new book just for a good howl. In fact, that "someday" the title promises may never come. Tillman's stories are too piercing, the obsessions of her characters too connected to their psychic wounds, for them to be considered exactly "funny." In any case, it isn't "someday" but rather "meantime" that counts for readers. And in the meantime, Tillman's fictions tend to be (to steal a line from one of her stories) as "outrageously ineffable, obdurate and evasive" as the forms of desire they describe. Gorgeously at ease and technically virtuosic, the stories are ever on point — on point, that is, if the point of your reading has more to do with psychological nuance and bravura performances of language than with conventional story lines. -- Forrest Gander, New York Times - Read More
Straight from the I-wish-I'd-said-that school of writing come the sometimes acerbic, often poignant, and always meaningful pieces in Lynne Tillman's Someday This Will Be Funny (Red Lemonade). Never mind the ostensible topic of any given story—Tillman's ruminations are about much more than you start off thinking they will be. — Sara Nelson, Oprah.com - Read More
Tillman's gorgeous and potent latest (after American Genius) finds the innovative author embracing diverse, imaginative forms in these often brief but always intriguing tales. [...] With subjects ranging from birds to Marvin Gaye to an ex-lover who has earned Tillman's wrath, these missives partake in an elegant, efficient use of language to challenge concepts of love, history, memory, and language. Tillman's compact narratives shine and stand up to multiple readings. -- Publishers Weekly - Read More
More Metadata!
Iambik Audio ISBN:
9781926673622
Iambik Audio Publication Date:
Aug 10, 2011
Print ISBN:
9781935869009
Print Publication Date:
Apr 22, 2011
Audio Distribution Rights:
Worldwide
Keywords/tags:
humor
,
love
,
memory
,
NYC
,
politics
,
relationship
,
reminiscence
,
short stories
,
stream of consciousness