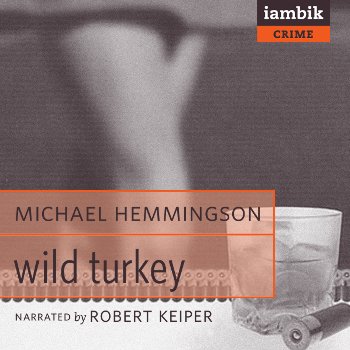 Wild Turkey
Narrator:




Publisher:




Proof-listener:

Elizabeth Medeiros



Length:

4:21:37



File Size:

~ 220 MB



Share:

Sample:
Buy from Audible:
Description
Phil Lansdale has problems. He's out of a job, his son's a pyromaniac, and his wife is running out of excuses as to why she comes home six hours late from work every night.
In his newly appointed house-husband position, Phil learns that when you have a lot of time on your hands, you begin to notice your neighbors, their intricate nuances, and the discord created by someone who doesn't follow the normal routine-like the long and sexy neighbor across the street, Cassandra Payne.
Phil and his new found friend, Bryan, an ex-detective who lives next door, have been keeping tabs on Cassandra. But when Cassandra's husband is gunned down, Phil and Bryan realize that the beautiful Cassandra might be hiding more beneath that eensy-weensy miniskirt than meets the eye, and Phil finds himself drawn into the dark and mysterious world of Cassandra Payne.
With a bottle of bourbon and a full tank of gas, Phil sets out to find the gunman and discovers the truth in a world where some men are men, some are wild, and some are only turkeys.
First Line
I recall this particular married woman I'd had a short fling with when I was in my mid-twenties.

Reviews
"Within Hemmingson's fiction is an oddly twisted brand of sin and redemption. His characters are over-whelmed by their sins and bring out justice upon themselves, or other characters enact the karma for them." -- American Book Review
"Wild Turkey deals up one nasty shock after another. It's just what thriller addicts crave."—John Clarkson, author of Reed's Promise
"Wild Turkey is a quick slice of suburban noir that packs quite a wallop."—Deadly Pleasures
"Wild Turkey is intoxicating!"—John Lutz, bestselling author of SWF Seeks Same
"A teller of two-fisted tales, Michael Hemmingson is definitely the Jim Thompson of the twenty-first century. Wild Turkey is the first drink in a long hard-boiled night of insanity." -- Larry McCaffery, editor of Storming the Reality Studio
Here's my review for
this book
using
raw html
. Does this input type work better for our purposes?