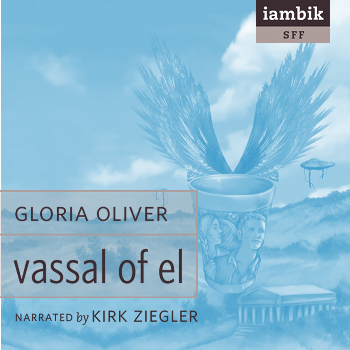 Vassal of El
Narrator:




Proof-listener:

Linda Andrus



Length:

9:42:19



Share:

Sample:
Buy from Audible:
Description
He tried to forget his past, but it wouldn't forget him
At sixteen, Torren was violently torn from his family and his people and left for dead, a cripple in more ways than one. For the next few years, he traveled alone, making few friends.
Then, one night, a terrified young woman fleeing for her life stumbles into his camp, and his life once again takes new direction. As he reluctantly takes responsibility for getting her to safety, his past comes back to haunt him in a way that is painfully ironic. Against both his will and his better judgment, he must return to the place he had thought lost to him forever if he is to make good on his promise to keep his charge safe from harm.
First Line
Red, everything was red. It oozed and dripped and covered everything.

Reviews
"...Vassal of El is a superb story, both enchanting and exciting" -- Eternal Night

"When you sit down to read VASSAL OF EL be sure you have plenty of time because you simply will not want to put it down. As you journey with Torren you are soon aware that all is not as it seems, although you cannot put your finger on exactly how you know. With masterful hints of foreshadowing and half forgotten memories the author slowly brings forth the story of Torren and of the young girl he has unwillingly befriended. The twists and turns keep you guessing and just as you have it figured out, you have to reevaluate your conclusions. The author draws you in so that Torren becomes a friend you care about and empathize with. It is a work that offers not only entertainment but inspiration and hope for us all. This is definitely a must read and I have given it a full four star rating." -- RM Blacketer, Scribesworld


More Metadata!
Iambik Audio ISBN:
9781927472422
Iambik Audio Publication Date:
Jul 29, 2013
Print ISBN:
9781934135990
Print Publication Date:
Nov 19, 2008
Audio Distribution Rights:
Worldwide
Keywords/tags:
fantasy
,
fighting
,
gods
,
kidnapping
,
magic
,
mercenaries
,
murder
,
mystery
,
science fiction
,
swords
,
witch