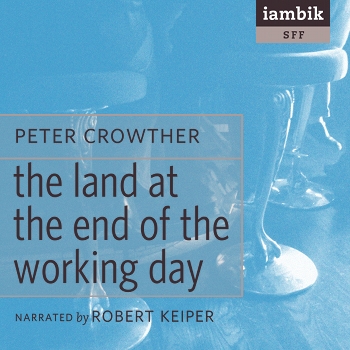 The Land at the End of the Working Day
Narrator:




Publisher:




Proof-listener:

Nadine Eckert-Boulet



Length:

4:55:57



File Size:

~ 272 MB



Share:

Sample:
Buy from Audible:
Description
A collection of four stories by Peter Crowther.
On a windswept corner of Manhattan, just a stone's throw from the weathered facade of the legendary Chelsea Hotel, there's a small two-flight walkdown bar called The Land At The End Of The WorkingDay. Stop in and rest awhile… you'll meet the most fascinating people.
There's Jack Fedogan, widowed these past few years and still carrying a torch for his beloved Phyllis while he plays smooth jazz on the barroom's battered PA system. And the wonderful triptych of regular imbibers… Edgar Nornhoevan, Jim Leafman and McCoy Brewer, meeting up to escape the world outside or to have a drink with like-minded souls or maybe just to share a few jokes.
And meet one-off visitors. Folks like Gandalph Cohen, the magical caretaker of the City's welfare; Front-Page McGuffin, who, it has to be said, has been in better health; Bernard Boyce Bennington, who carries a torch for a woman who loved him and left him (with a bizzarely magical memento); and Horatio Fortesque and Meredith Lidenbrook Greenblat, scholars of the works of the great Jules Verne and hot on the trail to a doorway to another world… a doorway that could just be situated in a backroom of one of Manhattan's strangest watering holes.
Original cover image by This Yuppie Life.
First Line
Waiting for his drink, thinking about Tom 'Ankles' Talese — an epithet (of sorts) earned over many years as a result of the fact that Tom spends so much time so far up the Chairman's ass that his ankles are usually the only parts of his anatomy visible — McCoy Brewer watches himself in the large mirror propped up behind the bottles on the back counter at the Land at the End of the Working Day, playing back the events of the past few hours.

More Metadata!
Iambik Audio ISBN:
9781927472125
Iambik Audio Publication Date:
Jul 3, 2012
Print ISBN:
9781848631427
Print Publication Date:
Apr 1, 2011
Audio Distribution Rights:
Worldwide
Keywords/tags:
adventure
,
atmospheric
,
bizarre
,
cameos
,
characters
,
comradeship
,
fragments
,
manifestations
,
pathos
,
unexpected