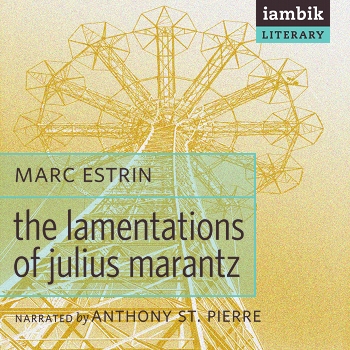 The Lamentations of Julius Marantz
Narrator:




Publisher:




Proof-listener:

Nadine Eckert-Boulet



Length:

5:50:33



File Size:

~ 325 MB



Share:

Sample:
Buy from Audible:
Description
Who would benefit if they really did bring The Rapture on?
Marc Estrin follows another of his strange protagonists through a world troubled by what it knows and by how it applies that knowledge.
From the first page, we are plunged into a global riot of paranoia, joy, and fear. But something is sadly familiar here, perhaps because we have been taught to anticipate a world in which people suddenly fly off the planet. It might be The Rapture. Or it might be some violation of the force of gravity. Whatever it is, it's spreading madness, religious hysteria, and some truly formidable government powers.
The voice of these Lamentations is a sixty-something, club-footed scientist named Julius Marantz, an obsessive researcher who suffers both from forbidden knowledge and an insistent conscience. As his spirit and his heart begin to fail, Julius realizes what is lost to him: a childhood of possibility, the consolation of belief, and the undying optimism of a father who taught him the principles of physics on the roller-coaster and the parachute jump.
Partly a portrait of cynical politics and religious fervor, part scientific speculation and even a meditation on the glories of Coney Island, The Lamentations of Julius Marantz traces the rise and fall of science in a truly personal story that finally fairly ascends.
(Original cover background photo: Gregg NHOC)
First Line
The lights dimmed in Mini-Salle 7, the smallest and most hidden picture palace, deep in the warrens of Dodecaplex Two.

Reviews
Clubfooted, 60-something Cal Tech grad Julius Marantz is pursued by both the Central Intelligence Corporation and a corporate coalition known as GEKO in this Kafkaesque near-future mashup from Estrin (Insect Dreams: The Half-Life of Gregor Samsa). Julius's crimes include having perfected a mechanism known as the Doodad, which, among other things, polarizes the water molecules in living beings and is used to create rapture-like experiences among the multitudes of India. Julius cedes operating rights to the Doodad early on, and 200 pages of his kvetching reflections on his early life ensue. Born to wear a pocket protector and inspired by the exoticisms of Coney Island, Julius makes kid-genius forays into relativity; displays his mother's pickled appendix; and has his dog Yenta bark mitzvahed. His parents' fatal air accident leaves him with a sense of irretrievability that inspires research in magnetic fields at Copenhagen's Niels Bohr Institute and Cal Tech. With the Doodad in corporate hands, the world stands on the brink, threatened by way of product testing. Estrin's fantastical conceit conceals a very conventional story at its core, and neither one gets sufficient treatment. Scattered throughout this fourth novel are amusements, moving laments and inventive imaginings, but the narrative flow remains polarized. (Nov.) -- Publisher's Weekly - Read More
"Many readers will need to take a second look at this book to feel that they have any kind of real grasp of what's going on, but it's likely Estrin is the only who truly does." - Library Journal. - Read More