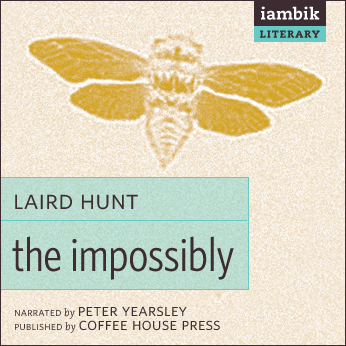 The Impossibly
Narrator:




Proof-listener:

Nadine Eckert-Boulet



Length:

6:18:07



File Size:

~ 300 MB



Share:

Sample:
Buy from Audible:
Description
With the literary inventiveness of Paul Auster and the dark absurdity of Kafka, Laird Hunt's impressive debut is a smart, funny noir that is as fittingly spare as a bare ceiling light. Deadpan delivery and a sly eye for detail characterize The Impossibly's anonymous narrator, and when the nameless operative botches an assignment for the clandestine organization that employs him, everyone in his life—including his girlfriend—is revealed to be either true-blue, double operative, or both. The narrator's final chilling assignment—to identify his own assassin—masterfully dismantles the reader's own analysis of the evidence. This is a fresh, daring love story set in a world of crime and deep confusion, told by an unreliable and not-unhumorous individual, who is more interested in love than in crime and is clearly ill-equipped for both.
First Line
The first time we met it was about a stapler, I think.

Reviews
Hunt is an intellect and a great spinner of claustrophobic noir plots, and his erudite gumshoe yarn owes as much to George Perec and Gertrude Stein as it does to Paul Auster." —The Believer
"Every once in a long while, you discover a novel unlike anything else you've ever read. Laird Hunt's debut is one of them. Innovative, comic, bizarre and beautiful, The Impossibly reads as if Donald Barthelme were channeling Alain Robbe-Grillet, Samuel Beckett, Ben Marcus and reruns of Get Smart." --Time Out New York
"The Impossibly is one of the most exciting debut novels I have ever read. . . .While most Kafka comparisons are specious and overstated, Hunt's subtle humor, sophisticated intelligence and the graceful timbre of his prose place this novel firmly in the tradition of The Castle, as well as Nabokov's The Eye and Thomas Bernhard's The Loser. This is high praise indeed, but The Impossibly is a marvelous, wonderful novel." —Review of Contemporary Fiction
More Metadata!
Iambik Audio ISBN:
9781926673103
Iambik Audio Publication Date:
Oct 19, 2010
Print ISBN:
9781566891172
Print Publication Date:
Sep 1, 2001
Audio Distribution Rights:
Worldwide
Keywords/tags:
complex
,
criminal organization
,
Fiction
,
killers
,
Romance