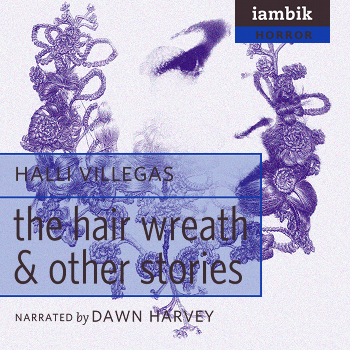 The Hair Wreath and Other Stories
Narrator:




Publisher:




Proof-listener:

Darla Middlebrook



Length:

5:39:42



File Size:

~ 470 MB



Share:

Sample:
Buy from Audible:
Description
Girls and boys disappear; couples caught in the heat and suppressed rage of urban life are haunted by the ghosts of their own making; neighbourhoods drift in the murky atmosphere of buried emotions, where the echoes of distrust and dissonance prove that something just isn't . . . right.
These nineteen strange stories gather and weave themselves together into a wreath of memories, rife with an atmospheric and ominous creep redolent of Shirley Jackson. This eerie collection illustrates the disconnect amongst people and the places they inhabit—the gap that allows the supernatural to flourish.
First Line
They had to get out of the city.

Reviews
"A touch of magical realism, a whiff of the dark. Great emotional intensity is wrought in only a few pages. Domestic skirmishes, open ended mysteries and always—in the midst of life—the delicate scent of corruption. Villegas's fresh voice promises a great future in speculative literature."
–Ellen Datlow
"Fans of creepy, nongory horror will appreciate this collection."
– Publishers Weekly
"Slippery, evocative, tasty. Elegantly and eloquently unsettling."
– Ursula Pflug, author of After the Fires and Green Music
"(T)hese stories are very finely thought through; their language is precise. And, on the whole, the emotional effects are successful. It's a strong debut collection, marking a writer worth watching."
– Matthew Surridge on Rover
More Metadata!
Iambik Audio ISBN:
9781927472361
Iambik Audio Publication Date:
Feb 6, 2013
Print ISBN:
9781926851020
Print Publication Date:
Sep 15, 2010
Audio Distribution Rights:
Worldwide
Keywords/tags:
avant guard
,
creepy
,
ghost
,
scary
,
science fiction
,
short story
,
spooky
,
strange
,
supernatural
,
weird