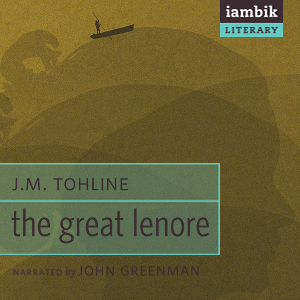 The Great Lenore
Narrator:




Publisher:




Proof-listener:

Linda Andrus



Length:

5:17:10



File Size:

~ 440 MB



Share:

Sample:
Buy from Audible:
Description
The Great Lenore is the tale of a ravishing young Brit whose falsely-reported death provides her with an opportunity to begin a new life. Before she can disappear for good, however, she longs to know the reaction of her two-timing husband and his aristocratic family. To find out, Lenore enlists Richard – an outsider in the money-and-booze sodden landscape of Nantucket high society – to be her eyes and ears. As events unfold, Richard discovers the entanglements of Lenore's relationships are more intricate than he ever expected – more intricate even than the secrets within Lenore's miniature punt boat.
This elegant debut paints an idyllic island surrounded by reflective seas and encased in a world where souls collide, mysteries thicken, and dreams unravel. With lively, modern prose reminiscent of The Jazz Age, Tohline orchestrates a playful literary riff on affluence, love, grief, and duplicity. In the author's words, "[It] is about dreams, and about the things we sacrifice to chase them."
First Line
When I met Lenore, she'd been dead for four days.

Reviews
"The Great Lenore is...beautiful in the same way that J.D. Salinger's books are beautiful...[it] hangs in your consciousness after the last note has sounded, making it impossible for long moments to think. One just feels." --New York Journal of Books
"The Great Lenore...[presents] mysteries about every character. Some are revealed, some not...so you're saying, 'Okay, what is this person's motivation?' The mind tends to think of these formulas. [But] there's no formula here." --KWGS Tulsa [Tulsa's NPR affiliate]
"The Great Lenore is perfect when you want to get absorbed in a book. It doesn't so much take you away as take you into itself." --Erin Reads
"The Great Lenore is...a page-turner that introduces the literary world to an author with a clear and profound appreciation for the American literary canon." --Small Press Reviews
"The Great Lenore is...a contemporary Gatsby. James Joyce, Jean Rhys and Geraldine Brooks are three of the many writers who reworked great stories to wide acclaim. JM Tohline's tribute puts him in excellent company." --Washington Independent Review of Books
"The Great Lenore...stylistically mimics the crashing waves of the Nantucket ocean...[it] kept me turning the pages until I knew all of the details." --Booked In Chico
"The Great Lenore...is set in modern time but evokes Grace Kelly and Bogart and black-and-white noir." --Shelf Unbound
More Metadata!
Iambik Audio ISBN:
9781927472231
Iambik Audio Publication Date:
Jan 08, 2013
Print ISBN:
9780984510559
Print Publication Date:
Jun 15, 2011
Audio Distribution Rights:
worldwide
Keywords/tags:
infidelity
,
Nantucket
,
rich people
,
Romance
,
writing