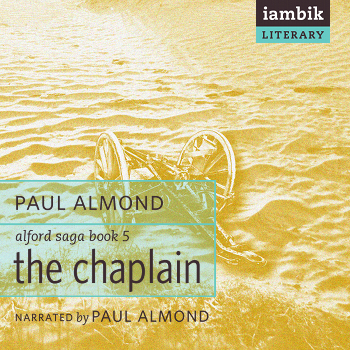 The Chaplain (Book 5 of the Alford Saga)
Narrator:




Publisher:




Proof-listener:

Bo Harwood



Length:

9:01:37



File Size:

~ 745 MB



Share:

Sample:
Buy from Audible:
Description
The Chaplain is the fifth book of The Alford Saga, following The Deserter, The Survivor, The Pioneer, and The Pilgrim.
The Prime Minister gives permission for John Alford (The Pilgrim) to board a tramp steamer crammed with a thousand young enlistees bound for adventure in the Boer War. They steam across a stormy Atlantic into a year of dusty, disease-ridden battles in South Africa — the first engagement by Canadian Forces on foreign soil. He and his courageous comrades endure freezing night-long marches and thirst-ridden days as they mount dangerous attacks on Boer commandoes under a blazing sun, turning the tide of war in the great battle of Paardeberg Drift. He falls in love, but as Chaplain, he must first comfort the dying, tend wounded friends, and with his troops assault the impregnable Thaba 'Nchu, the Black Mountain. This enthralling tale of bravery and self-sacrifice is the first romantic adventure novel set in the Boer War for over a hundred years.
First Line
Reverend John Alford awoke from frantic dreams of war, brutal soldiers, pure women sabered against pews, babies torn from tender wombs.

Reviews
"I found the account of Jack's adventures in The Chaplain just as immediate, personal and engrossing as in The Pilgrim. If anything, the story is even more gripping and the reader is left eager to read more about Jack and the Alford family. Those who are taken by The Chaplain will be delighted, as I was, to learn that the Alford Saga continues and that this story will be followed by three more books in the series. In and of itself The Chaplain stands on its own as a great novel, one which will likely endure as a classic in Canadian literature." -- amazon reviewer