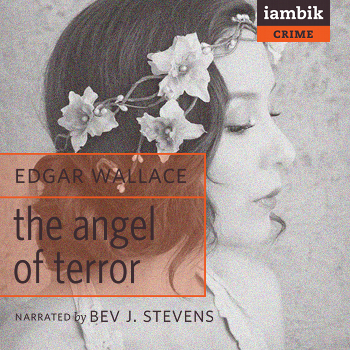 The Angel of Terror
Narrator:




Publisher:




Proof-listener:

Linda Andrus



Length:

7:50:51



Share:

Sample:
Buy from Audible:
Description
Beautiful Jean Briggerland is the epitome of evilness in this fast-paced thriller. Her many plots to steal her victim's riches do not shy away from lies and murder. Only Jack Glover, the lawyer of Jean's most recent victim, is aware of her true nature. Can he stop her crime spree and bring her to justice before she murders her way to wealth and happiness? Don't count on it! Page after page offers action, new twists, and unexpected surprises that will keep listeners on the edge of their seats!
Original cover background image by Faylyne.
First Line
The hush of the court, which had been broken when the foreman of the jury returned their verdict, was intensified as the Judge, with a quick glance over his pince-nez at the tall prisoner, marshalled his papers with the precision and method which old men display in tense moments such as these. He gathered them together, white paper and blue and buff and stacked them in a neat heap on a tiny ledge to the left of his desk.