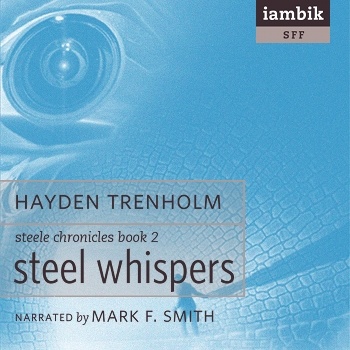 Steel Whispers
Narrator:




Publisher:




Proof-listener:

Elizabeth Medeiros



Length:

11:26:55



File Size:

~ 656 MB



Share:

Sample:
Buy from Audible:
Description
Steel Whispers is Book 2 of the Steele Chronicles.
Four dead Borg and counting. Serial killer, gang violence or civil war? While the Special Detection Unit hunts for answers, a terrified family searchs for their Disappeared daughter, and war between society's elites takes an even nastier turn. Borg and genetic technology is evolving exponentially and Frank Steele finds himself up against unfathomable enemies.
Franks needs to find the key that ties it all together. He's sworn to protect every citizen. It's his duty as a cop. But now it's gotten personal and Frank has to face the ultimate test – investigating the death of his own son.
First Line
I deal in death every day.

Reviews
"Steel Whispers is an edge-of-your seat amalgam of police procedural and razor-sharp science fiction. The streets of Calgary never seemed so mean! Fans of Dashiell Hammett and William Gibson both will love this; a great novel from one of Canada's fastest-rising SF stars." - Robert J. Sawyer, Hugo Award-winning author of Wake.
"A taut, near-future police procedural with a plot as sinewy as that cyborg snake in Blade Runner. Hayden Trenholm works the mean streets and millionaires' mansions of mid-21st century Calgary and comes up with a winner." - Matthew Hughes, Author of the Tales of Henghis Hapthorn.
More Metadata!
Iambik Audio ISBN:
9781927472187
Iambik Audio Publication Date:
Jul 22, 2012
Print ISBN:
9780978205232
Print Publication Date:
Jul 24, 2011
Audio Distribution Rights:
Worldwide
Keywords/tags:
biomechanical
,
Borg
,
Calgary
,
Crime
,
detective
,
inspector
,
murder
,
post-apocalyptic
,
rejunevation
,
sex slave