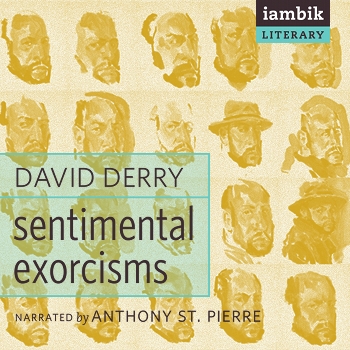 Sentimental Exorcisms
Narrator:




Publisher:




Proof-listener:

Nadine Eckert-Boulet



Length:

5:18:13



File Size:

~ 220 MB



Share:

Sample:
Buy from Audible:
Description
A former lover becomes an uninvited houseguest in Ted and Marjory's quiet abode, adversely affecting investigations into the history of the semicolon. A prosecutor must compulsively narrate his neighbour into ignominy. A market analyst's visit to a stripper goes awry, leading to a compulsory leave from work and an intervention from loved ones. An English lit undergraduate finds himself besieged by increasingly urgent voyeuristic desires, and soon finds himself pressed to the glass, firm in his belief that the only way to exorcise his demon is to identify its essential objectives and achieve them. Meanwhile, poor Tim Pine must face his coprophobia in a most public and lamentable office misadventure.
Sentimental Exorcisms is a collection of tragicomic satire, latter-day Victorian collisions of Nabokov and Proust. The men in these long short stories have grand designs and petty fears, or modest designs and grand fears. Desires, scapegoats, idylls and obtrusive egos: the golden calves they can't quite bear to kill. With their ramparts crumbling around them, each mounts an exuberant defence in a vacuum of self-absorption.
First Line
It was the simple logic of two premises and their inevitable conclusion that ultimately led me to become a voyeur.

Reviews
There are some oddball goings on in Sentimental Exorcisms (Coach House Books), the first book by David Derry. These are stories of weird obsessions, the kind in which one really lousy decision can lead to all sorts of mayhem. -- Quentin Mills-Fenn, Uptown
In Derry's taut, arrestingly witty opening tale "one of the University of Toronto's top English undergrads," employing perfectly sound solipsistic logic, arrives at the conclusion that the only way to fully realize his inherent and sturdy normalcy is to extinguish his compulsion to peep through peeping. "Attainment is annihilation," he explains. -- Joseph Braun, Vue Weekly
'There is something quite Victorian quaint and at the same time post-Freudian quirky in David Derry's Sentimental Exorcisms. Perhaps its the denseness and meticulousness of the characters combined with their just-on-the-edge neurotic behaviour. Or it might be the combination of an underlying-but-undefined justice and a never-can-tell randomness that somehow manages to punish these characters not for doing the wrong thing but for daring to open themselves up, for daring to take chances based on those quasi-neuroses ... [a] subtly subversive collection' -- Michael Mirolla, Event