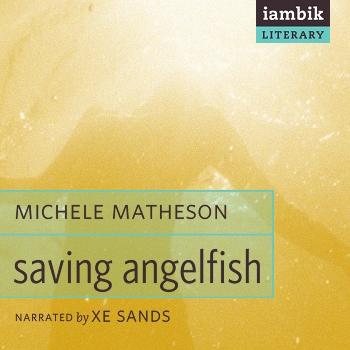 Saving Angelfish
Length:

7:19:54



File Size:

~ 409 MB



Share:

Sample:
Buy from Audible:
Description
A part-time actress and full-time junkie, Maxella Gordon's life is unraveling fast. She's estranged from her parents, in debt to the neighborhood dealer, and in frequent conversation with an angel figurine she ripped off from the local Rite-Aid. After an unfortunate incident, Max is forced to sell for another dealer, the vicious, legless Carlotta. Struggling to get out of debt, off drugs, and away from Carlotta, Max is increasingly desperate to find a way out.
Drugs and violence haunt everyone in Max's world, yet still they draw together: her parents, still holding each other up though their marriage ended years ago; her tutu-clad buyer, who joins them for Christmas dinner; and Max's own attempt to help Carlotta's son Albert break away from his mother.
Honest and unpredictable, laced with flashes of wit and poignancy, Saving Angelfish is a gritty portrait of the dark world simmering just below LA's gleaming surface.
Original background cover design by Laura Shaw
First Line
Max lies on the beach with one night clean.

Reviews
Matheson's promising debut, a gritty novel from Tin House Books' New Voice Series, tells the bleak story of a wayward L.A. junkie named Max. Virtually disowned by her dysfunctional parents, out of a job, sickeningly underweight, months behind on rent and unable to kick her debilitating heroin habit, Max flits from day to depressing day in a constant state of decrepitude. When she's not shooting up, she's snorting coke, and when she's not doing that she's thinking about her next fix. Despite her spiraling decline and a number of near-death experiences, nothing really changes for Max throughout her story. Her dealers (Grandpops, her crusty, repulsive landlord; and Carlotta, a beastly legless woman) and fellow junkies (Wolf and a roller-skating waif named Tutu) share Max's single-minded pursuit of getting high. Though initially mesmerizing, the drug-centric plot begins to ware a little thin; the crux of the book can be found in Max's unchanging attitude toward her life: "The goal is not to think-about anything. She winds up places, and that's fine." Nonetheless, Matheson's sharp, highly detailed prose thrusts readers in the driver's seat of an out-of-control life. - Publishers Weekly
"This is a flawlessly executed study of a life that's fully dissolved." - Los Angeles Times
"Her novel of addiction, of coming close to bottoming out…rings as true as any memoir I've read." - Russ Harvey, KQED
More Metadata!
Iambik Audio ISBN: 9781927472040
Iambik Audio Publication Date: Mar 29, 2012
Print ISBN: 9780977312764
Print Publication Date: Nov 7, 2006
Audio Distribution Rights: Worldwide