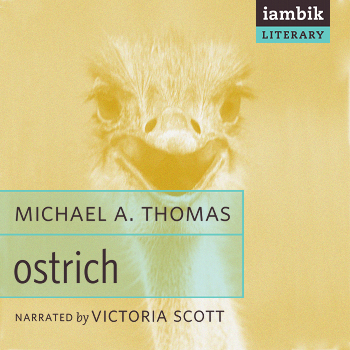 Ostrich
Narrator:




Publisher:




Proof-listener:

Linda Andrus



Length:

8:39:37



Share:

Sample:
Buy from Audible:
Description
Nevada sheep rancher Sabine Eckleberry's life is in shambles. His wife has decamped to Arizona to run a dog-grooming business; his youngest daughter needs a husband; his irrepressible son VJ wants to turn the ranch into an ostrich-breeding operation; and the wild burros he has adopted to guard his sheep can't get along with their charges. Now his family and friends are about to descend on the ranch to celebrate Sabine's seventy-second birthday.
The ranch is soon a chaos of budding and blighted romances, mistaken identities, rampaging poodles, runaway sheep, schemes of seduction and sudden wealth, and a newly hatched ostrich chick in search of love.
Novelist Michael A. Thomas has created a cast of memorable human characters, a supporting cast of realistic animal personalities, and a colorful setting in Nevada's rangeland. His keen ear for dialogue and his perfect timing support a plot as complicated and satisfying as a Shakespearean comedy.
Original cover background image by William Warby.
First Line
A staccato "Pop! Pop! Pop-pop! Pop!" cut short Everett Crume's consideration of the eviction notice.

Reviews
"This is a story of Nevada's back country told by a writer of uncommon skill and humanity. Readers will smile, chuckle, then laugh out loud at the antics of the Eckleberrys and their human and animal companions. Ostrich is a wild romp of a tale, and its endearing characters and engaging plot will delight readers long after they have read the last page." -- Western Literature Series

"Nothing earthshaking happens at the party or in the novel; a family gathers, and its idiosyncratic members simply share their individual interpretations of love. This is a charming tale, told with warmth and humor by a master storyteller." -- George Needham, American Library Association

"Thomas's ... humor is insidious, as the reader visualizes the family melee. Digressions convey real information about the habits of ostriches, donkeys and sheep, or about Basques in America. The key players, especially Sabine, are generally sympathetic, and the good-humored scenario, if not hilarious, produces pleasant entertainment." -- Publishers Weekly


More Metadata!
Iambik Audio ISBN: 9781927472439
Iambik Audio Publication Date: Jul 09, 2013
Print ISBN: 9780874173512
Print Publication Date: Aug 1, 2000
Audio Distribution Rights: Worldwide