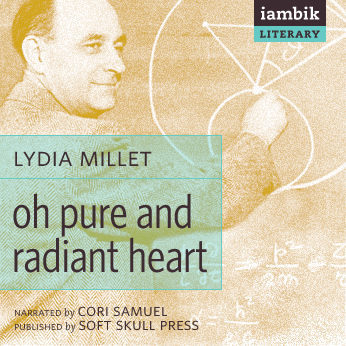 Oh Pure and Radiant Heart
Narrator:




Publisher:




Proof-listener:

Elizabeth Medeiros



Length:

17:21:35



File Size:

~ 1 GB



Share:

Sample:
Buy from Audible:
Description
Oh Pure and Radiant Heart plucks the three scientists who were integral to the invention of the atom bomb: Robert Oppenheimer, Leo Szilard, and Enrico Fermi as they watch history's first mushroom cloud rise over the desert on July 16th, 1945… and places them down in modern-day Santa Fe. One by one, the scientists are spotted by a shy librarian who becomes convinced of their authenticity. Entranced, bewildered, and overwhelmed by their significance as historical markers on the one hand, and their peculiar personalities on the other, she, to the dismay of her husband, devotes herself to them. Soon the scientists acquire a sugar daddy – a young pothead millionaire from Tokyo who bankrolls them. Heroes to some, lunatics or con artists to others, the scientists finally become messianic religious figureheads to fanatics, who believe Oppenheimer is the Second Coming. As the ever-growing convoy traverses the country in a fleet of RV's on a pilgrimage to the UN, the scientists wrestle with the legacy of their invention and their growing celebrity, while Ann and her husband struggle with the strain on their marriage, a personal journey married to a history of thermonuclear weapons.
Cover image adapted from a photo from the Smithsonian Institute.
First Line
In the middle of the twentieth century three men were charged with the task of removing the tension between minute and vast things.

Reviews
"Oh Pure and Radiant Heart provides catharsis and education while allowing us to bask in the humorous, poignant possibilities of what if." —The Believer
"Delicate and beautifully handled, this is indeed a literary balancing act . . . When it's flying, this novel can be moving and wonderfully funny." —Hartford Courant
"Millet has written what might prove to be the year's finest urban fantasy . . . Sporting dark humor, caustic insight, and a genuinely disturbing denouement, [it] is a must-read for all fans of good literature—genre and mainstream alike." —St. Louis Post-Dispatch
More Metadata!
Iambik Audio ISBN:
9781926673073
Iambik Audio Publication Date:
Oct 19, 2010
Print ISBN:
9781932360851
Print Publication Date:
Jun 1, 2005
Audio Distribution Rights:
Worldwide
Keywords/tags:
apocalypse
,
Fermi
,
Hiroshima
,
Nagasaki
,
nuclear bomb
,
Oppenheimer
,
radiation
,
Szilard
,
time travel