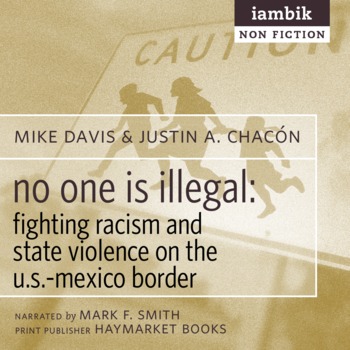 No One is Illegal: Fighting Racism and State Violence on the U.S.-Mexico Border
Narrator:




Publisher:




Proof-listener:

Linette Geisel



Length:

12:04:33



File Size:

~ 640 MB



Share:

Sample:
Buy from Audible:
Description
Honorable Mention: Gustavus Myers Book Awards, 2007
No One Is Illegal debunks the leading ideas behind the often-violent right-wing backlash against immigrants, revealing their deep roots in U.S. history.
This vital book highlights the history of white vigilante violence in the U.S., drawing parallels with today's Minutemen Project; examines the role of U.S. corporations in the Mexican economy, and the role of immigrant labor in the U.S. economy; reveals how patterns in U.S. immigration policy and campaigns to scapegoat immigrant workers are shaped by the needs of business and politicians; and offers an insightful analysis of the most recent battles over immigrant rights.
The authors also remember the long tradition of resistance to vigilante and state-sponsored racism among immigrants organizing in the factories and the fields, and chart a course toward justice and equality for immigrants in the U.S.
First Line
"You've kicked a sleeping giant."

Reviews
"The "immigration debate" suffers from ideologically-induced amnesia. No One Is Illegal is brimming with the historical context—and brave analysis —that we need to address the political and above all human crisis of migration. This book arrives not a moment too soon... literally, there are lives on the line." --Rubén Martinez, author, The New Americans: Seven Families Journey to Another Country
"Is immigration really a "national crisis"? Chacón and Davis attack the question by revealing the disturbing, centuries-old context for the cross-border working-class, and the resurgence of reactionary anti-immigrant politics and racist vigilante violence. No One Is Illegal powerfully argues that the borders themselves are barriers to imagining real social justice. A urgent, important must-read." --Jeff Chang, author, Can't Stop Won't Stop: A History of the Hip-Hop Generation
More Metadata!
Iambik Audio ISBN:
9781926673738
Iambik Audio Publication Date:
Sep 14, 2011
Print ISBN:
9781931859356
Print Publication Date:
Jul 15, 2006
Audio Distribution Rights:
Worldwide
Keywords/tags:
agriculture
,
Bracero-Program Mexico
,
illegal aliens
,
immigration
,
labor
,
Neo-Capitalism
,
strikes
,
unions
,
vigilantes