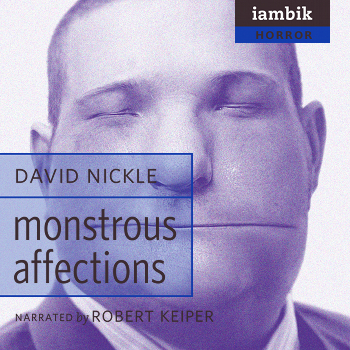 Monstrous Affections
Narrator:




Publisher:




Proof-listener:

Laura Caldwell



Length:

9:35:04



File Size:

~ 790 MB



Share:

Sample:
Buy from Audible:
Description
This collection of short stories won the Black Quill Award, Best Dark Genre Collection (2010).
A young bride and her future mother-in-law risk everything to escape it.
A repentant father summons help from a pot of tar to ensure it.
A starving woman learns from howling winds and a whispering host, just how fulfilling it can finally be.
Can it be love?
First Line
Mrs. Sloan had only three fingers on her left hand, but when she drummed them against the countertop, the tiny polished bones at the end of the fourth and fifth stumps clattered like fingernails.

Reviews
"David Nickle writes 'em damned weird and damned good and damned dark. He is bourbon-rough, poetic and vivid. Don't miss this one."–Cory Doctorow, author of Little Brother
"Bleak, stark and creepy, Stoker-winner Nickle's first collection will delight the literary horror reader . . . 13 terrifying tales of rural settings, complex and reticent characters and unexpected twists that question the fundamentals of reality. All are delivered with a certain grace, creating a sparse yet poetic tour of the horrors that exist just out of sight . . . This ambitious collection firmly establishes Nickle as a writer to watch."–Publishers Weekly (starred review)
"A perverted version of Alice Munro country . . . These stories work so well in part because of Nickle's facility with the language of the place he's created."–Quill & Quire (starred review)
More Metadata!
Iambik Audio ISBN:
9781927472347
Iambik Audio Publication Date:
Jan 22, 2013
Print ISBN:
9780981297835
Print Publication Date:
Oct 15, 2009
Audio Distribution Rights:
Worldwide
Keywords/tags:
adolescence
,
Canada
,
domestic violence
,
family
,
horror
,
love
,
relationships
,
short stories
,
sibling rivalry
,
weird tales