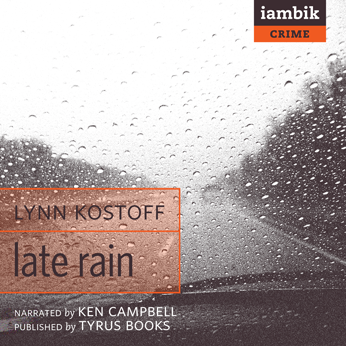 Late Rain
Narrator:




Publisher:




Proof-listener:

Betsie Bush



Length:

10:44:57



File Size:

290 MB



Share:

Sample:
Buy from Audible:
Description
Winner of AudioFile Earphones Award, August 2011.
Corrine Tedros is a Lady Macbeth wannabe who sets in motion the murder of her uncle-in-law (a soft-drink mogul), and things go awry when the murder is witnessed by a senior citizen in the late stages of Alzheimers. Things are complicated by the fact that the daughter of the man with Alzheimers is involved with a former homicide detective who has resigned and moved South in an attempt to reshape and simplify his life; on his own, Decovic starts to make connections in the case that cause Corrine Tedros to up the ante in keeping herself out of the murder investigation.
Cover photo by Chris Darling.
First Line
Patience was always a sucker's game.

Reviews
In many respects, this splendid mystery sounds more European than American. The action is cerebral (though still compelling), and the characters are well drawn, interesting, and unpredictable. Also, the humor is subtle and sometimes laugh-out-loud funny. Adding to the high quality is narrator Kenneth Campbell, who perfects the memorable characters: the good and bad cops who realistically outdo each other (listeners feel like eavesdroppers), the "loser" murderer and his creepy milieu, the charming, streetwise informant, and the elderly father suffering from Alzheimer's. Not only does the story keep listeners guessing until the end but there are moments of deep emotion and the characters are so good one hopes to meet them again. -- S.G.B., AudioFile Magazine - Read More
"Corrine Tedros decides her elderly uncle-in-law, Stanley, is standing in her way when he refuses to sell his successful South Carolina company to the highest bidder, so through a shady lawyer, she hires a killer to take care of the problem. Jack Carson, a man suffering from Alzheimer's Disease, witnesses the murder but can't describe the killer. Meanwhile, Ben Decovic, formerly a homicide detective in Ryland, Ohio, is now a patrolman for the Magnolia Beach Police Department in South Carolina, where he is attempting to recover from a personal tragedy. Although Corrine has made sure she has an alibi, Decovic is suspicious of her reactions and delves into her past, which she has gone to great lengths to conceal. Then Decovic becomes romantically involved with Jack's daughter, Anne, and events begin to spiral out of control. Kostoff, author of the well-received The Long Fall (2003), returns to crime fiction with what a promising series debut starring a principled cop who is beginning to heal himself." —Booklist
"It's safe to lump Lynn Kostoff in with Pinckney Benedict and Madison Smartt Bell, which is to say he is a very talented writer who no one will read because they are too busy telling all their friends on Facebook how funny last night's episode of the hit sitcom "Two Bikini Models and an Adorable Puppy" was. This state of affairs does not fill my heart with hope." —Independent Crime
More Metadata!
Iambik Audio ISBN:
9781926673257
Iambik Audio Publication Date:
Mar 9, 2011
Print ISBN:
9781935562122
Print Publication Date:
Aug 1, 2010
Audio Distribution Rights:
Worldwide
Keywords/tags:
Alzheimer's disease
,
bribery
,
conspiracy
,
Crime
,
detective
,
graft
,
grief
,
mental disorder
,
murder
,
mystery
,
police
,
politics
,
sex
,
South Carolina