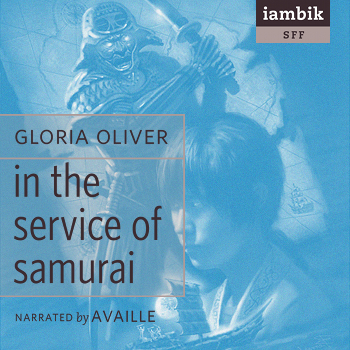 In the Service of Samurai
Narrator:




Proof-listener:

Mary McCullough



Length:

13:16:23



Share:

Sample:
Buy from Audible:
Description
In the hands of demons…
For the first time in his life, Toshi discovers that monsters do roam the earth. And this one has come for him.
Dragged from his home and into the company of the undead, Toshi must use his skills to help the creatures holding him hostage. The alternative is to fail and become one of them.
But those who do not wish his new master's quest to succeed may make Toshi one of the truly dead before they will allow him to do what only he can to help.
First Line
The sun dipped beneath the horizon, taking with it the last light of the day.

Reviews
"It mixes the elements of the classic ghost story with those of an epic quest and tosses it into the mysterious world of old Japan." -- amazon review

"The author wisely allows the uniqueness of the setting to amaze the reader, and trusts in the wonder of the characters to hold one's attention." -- amazon review


More Metadata!
Iambik Audio ISBN:
9781927472408
Iambik Audio Publication Date:
May 22, 2013
Print ISBN:
9781612710532
Print Publication Date:
Dec 27, 2002
Audio Distribution Rights:
Worldwide
Keywords/tags:
Aristocracy
,
Feudal System
,
ghosts
,
intrigue
,
Japan
,
Loyalty
,
Secret
,
Teens
,
Treasure Hunt