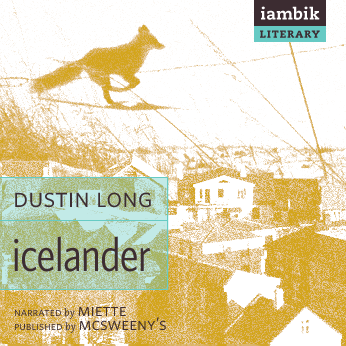 Icelander
Narrator:




Publisher:




Proof-listener:

Mary Ann Spiegel



Length:

7:53:43



File Size:

~ 420 MB



Share:

Sample:
Buy from Audible:
Description
The daughter of a local legend of the investigative arts, Our Heroine searches for her dog while avoiding her biological impulse to solve the mystery of her best friend's recent murder.
So establishes the baseline of Icelander, which pulsates even more deeply with Norse legend, an alternate reality and a cast of supporting characters including a "rogue library-scientist," a pair of philosophical investigators, and a many-faced villain. Built on mazes of time, language, and narrator, this literary fireworks display shows you what might happen if Hercule Poirot and Miss Marple had been penned by Nabokov then run through Hitchcock's lens.
Cover image adapted from photos by Bradley Gordon and Bjørn Giesenbauer.
First Line
Our Heroine woke to the sound of snowflakes, plaughtting against the window, perfect stellar dendrites that shattered as they crashed against the glass.

Reviews
Nabokov meets Lemony Snicket in this manic Chinese box version of a mystery. --Publishers Weekly
This wonderful new novel from McSweeney's is a twisty murder mystery with rich overtones of Nabokov, Norse mythology and pomo fiction. Long obviously knows what it's like to hover between wanting to read about underground kingdoms and purloined documents and wanting to read about just plain real people. In fact, he seems perfectly happy to keep on hovering there, and he knows how to make his readers happy there, too. -- Laura Miller, Salon.com - Read More
More Metadata!
Iambik Audio ISBN:
9781926673042
Iambik Audio Publication Date:
Oct 19, 2010
Print ISBN:
9781932416510
Print Publication Date:
Mar 29, 2006
Audio Distribution Rights:
Worldwide
Keywords/tags:
alternative reality
,
experimental
,
Fiction
,
humor
,
island
,
literary
,
mythology
,
Nabokovian
,
post modem
,
puzzle
,
surreal
,
whodunnit
,
wordplay