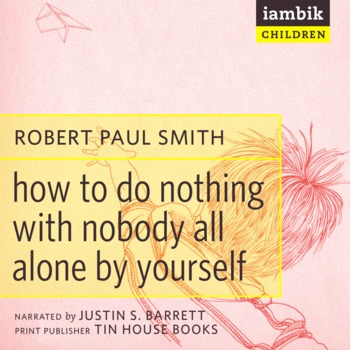 How To Do Nothing With Nobody All Alone By Yourself
Narrator:




Publisher:




Proof-listener:

Lee Ann Howlett



Length:

1:34:07



File Size:

~ 90 MB



Share:
Buy from Audible:
Description
New York Times Best-seller
How to Do Nothing literally tells "how to do nothing with nobody all alone by yourself"—real things, fascinating things, the things that you did when you were a kid, or your parents did when they were kids. This is a book to free your kid from video games for a few hours, a handbook on the avoidance of boredom, a primer on the uses of solitude, a child's declaration of independence.
If you don't remember how to make a spool tank, what to do with an old umbrella, whether "pennies" come before or after "spank the baby" in mumbly-peg, or how to make rubber-band guns, slings, or clamshell bracelets, it's OK because Robert Paul Smith has collected all of this and more in How to Do Nothing. It's a book for kids, but parents are not prohibited from reading it.
First Line
I don't know about you, but I wasted all but about fifteen minutes of my childhood.

Reviews
"Every great book reminds us that we're all alone in the world. At least this one provides us with the means to entertain ourselves while we're here." —Lemony Snicket
"It's what you'd get if you crossed the Boy Scout Handbook with The Anarchist's Cookbook, and it's definitely the wildest how-to manual I've seen this year." —Greg Cowles, The New York Times Paper Cuts blog
"It's a perfect book for summer." —Katie Schneider, The Oregonian
More Metadata!
Iambik Audio ISBN:
9781926673639
Iambik Audio Publication Date:
Aug 17, 2011
Print ISBN:
9780982053959
Print Publication Date:
Feb 23, 2010
Audio Distribution Rights:
Worldwide
Keywords/tags:
amusement
,
crafts
,
fun
,
games
,
home-made toys
,
household items
,
humor
,
kids
,
leisure