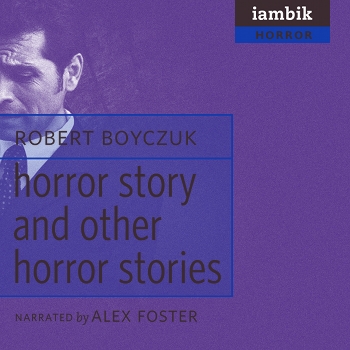 Horror Story and Other Horror Stories
Narrator:




Publisher:




Proof-listener:

Diana Majlinger



Length:

9:38:45



File Size:

~ 530 MB



Share:

Sample:
Buy from Audible:
Description
Love and loss are the two prevailing themes in this 93,000-word short story collection, featuring 19 of the author's tales — five of which are original to this collection:
– "When Fat Men Love Thin Women"
– "The Death Artist"
– "The Uncertainty Principle"
– "Monster"
– "The Love Clinic"
The rest of the stories appeared in such publications as On Spec, TransVersions, Prairie Fire, Northern Frights, Dark Planet, Descant, ChiZine, and the Tesseracts and Queer Fear anthology series.
First Line
Dear Mr. Poyntz: Thank you for your query of September 12th. I have just returned from a short (but long overdue) vacation in the southern climes, and am afraid I am somewhat behind in my correspondence.

Reviews
A) memorable debut . . . (a)n edgy variety of sci-fi, horror, and speclit, Boyczuk's stories are succinct (and) uniformly excellent – Rose Fox, Publishers Weekly - 
Read More
Robert Boyczuk is a supremely talented short-story writer. – Cory Doctorow on BoingBoing - 
Read More
Boyczuk builds up his hauntings and often gruesome metaphors and imagery from the base of his stories' human relationships, which imbues his fiction with an uncanniness that mimics the feeling of being trapped in a maze-like dream. Readers need not worry, however. The horror here is very real—Boyczuk just wants you to have a little fun finding it. – James Grainger, Rue Morgue Magazine - 
Read More