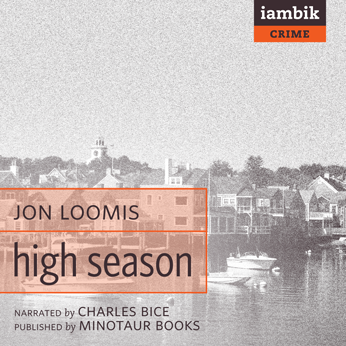 High Season
Narrator:




Publisher:




Proof-listener:

Elizabeth Medeiros



Length:

7:38:59



File Size:

~ 210 MB



Share:

Sample:
Buy from Audible:
Description
Frank Coffin had been a well-respected Baltimore homicide detective. But when he started having panic attacks at crime scenes, he was forced to go home to Cape Cod, where the worst crimes were usually break-ins, bicycle thefts, and domestic disputes. That is, until a vacationing televangelist turns up dead on the beach wearing a wig, a muumuu, and one size-twelve pump. Not to mention the raspberry-colored taffeta scarf strangling his neck.
Frank and his partner, Officer Lola Winters, begin checking out the drag bars and isolated trysting spots the reverend might have frequented. However, when the body count starts to rise, it becomes alarmingly clear that a killer with an agenda is at large in Provincetown. And Coffin's fears—like unwelcome summer tourists—have returned in full force…
Cover image adapted from a photo by Andrew Bossi.
First Line
Frank Coffin's office was windowless and cramped, hidden away in the darkest corner of the Town Hall basement, next to the boiler room.

Reviews
Frank Coffin returns to Provincetown, Massachusetts, where, as sheriff, he's dealing with a new boss, a younger girlfriend who wants a baby but not marriage, a car that is falling apart, and nightmares of a horrific murder case from his old job in Baltimore. Narrator Charles Bice turns in a charming performance that takes listeners inside Coffin's mind. Bice portrays the supporting characters the way Coffin sees them. For the narrative passages, Bice adopts a tone that moves between acerbic and ironic. When the action requires a brisker pace, Bice's voice takes on urgency, and when the story explores character, Bice uses a more conversational tone. Character voices are further defined with verbal mannerisms, accents, and speech patterns. Listeners will be engaged. -- S.C.A., AudioFile Magazine - Read More
Full of entertaining twists and sly observations, this is a perfect book for late summer reading. -- Publishers Weekly
Loomis' debut novel, starring Frank Coffin, the only somewhat-willing sheriff of the resort town of Provincetown, Massachusetts, displays the sureness of pace, dead-on atmosphere, and effortless wit of a veteran pro like Robert B. Parker. Coffin fits into the Melville tradition of someone trying and failing to escape the pull of the sea and of fate: the Coffin family jinx goes back through generations of whaling accidents and extends to Coffin's brother, killed on a Swift boat in Vietnam. Inevitably, Coffin, after being landlocked as a Baltimore cop for nine years, is pulled back to the Cape and to an inner circle of hell, a tiny office in the town hall basement, right next to the boiler room. Coffin's dream of coasting by on tiny, tourist-time infractions is burst when a TV evangelist, of virulently antigay persuasion, is found strangled on a gay beach, dressed in drag. Coffin's investigation puts him and his girlfriend in ever-escalating peril. So many things are rendered perfectly in this novel: the depiction of police politics (Coffin was moved from a harbor-view office to the basement when his uncle, former chief of police, was ousted after bribery and extortion charges); the love-hate tensions of a Cape Cod tourist town; the sharp but not artificially bright dialogue; and Coffin's own rueful self-reflections. Very funny and very tense. A great read. --- Booklist
More Metadata!
Iambik Audio ISBN:
9781926673134
Iambik Audio Publication Date:
Mar 9, 2011
Print ISBN:
9780312945213
Print Publication Date:
Sep 18, 2007
Audio Distribution Rights:
Worldwide
Keywords/tags:
Cape Cod
,
Crime
,
dark comedy
,
detective
,
Frank Coffin
,
murder
,
mystery
,
police
,
Providence