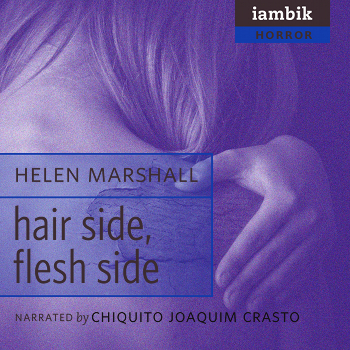 Hair Side, Flesh Side
Narrator:




Publisher:




Proof-listener:

Mary McCullough



Length:

8:00:06



Share:

Sample:
Buy from Audible:
Description
A child receives the body of Saint Lucia of Syracuse for her seventh birthday. A rebelling angel rewrites the Book of Judgement to protect the woman he loves. A young woman discovers the lost manuscript of Jane Austen written on the inside of her skin. A 747 populated by a dying pantheon makes the extraordinary journey to the beginning of the universe.
Lyrical and tender, quirky and cutting, Helen Marshall's exceptional debut collection weaves the fantastic and the horrific alongside the touchingly human in fifteen modern parables about history, memory, and cost of creating art.
First Line
It was three weeks to her birthday when the big box came—each of the moving men taking an end, grunting and sweating as they heaved drunkenly to the spot where Chloe used to park her new two-wheeler.

Reviews
"Sometimes a book comes along that is so original, so vibrantly alive, so beautifully imagined and so much a law unto itself that the only comment or advice a reviewer can offer is to say: go read it. Hair Side, Flesh Side is one such book, and having experienced it I am left with a genuine sense of excitement, thinking about where Helen Marshall might take us next." — 
Strange Horizons
"Hair Side, Flesh Side is a strong first collection of speculative fiction borne out of faded manuscripts, old libraries and the memories of the past. However, it's how Marshall sees us reconcile these ghosts with the world of the living that give her stories the weight of immediacy. She is a talent to be discovered, and one hopes that she will continue to balance her medieval research with her prose. There are, no doubt, many more old bones to dig up." —The National Post
"A tour de force of imagination, this remarkable debut collection uses the conventions of dark fantasy and horror as the framework for some of speculative fiction's most unusual stories." —Library Journal (starred review)
"Marshall does a fascinating job of deconstructing the age-old themes relating to love, sex, and death. Her stories of love encompass family love . . . romantic love . . . and love of a people . . . . All in all, Marshall's collection is an incredible fantastic journey for the erudite reader who is not afraid of a little quirk or horrific twist." — 
SFRevu
"I'm very happy to say that Helen Marshall's stories are among the most horrifying and gorgeously vivid I've read in quite some time. Amidst moments of body horror and hauntings galore, miracles and expressions of joy are liberally sprinkled, offering moments that lingered in my thoughts well after I'd finished the story." — 
City Book Review
"Sometimes you hear people talking about the new face of horror. Well huddle closer, children. Hair Side, Flesh Side is it. This is author Helen Marshall's debut story collection, but she's no stranger to these shores . . . . Marshall's stories are frightening, touching, quirky, sexy and deeply lyrical." — 
January Magazine
"Strangely touching, disturbing and weird as hell, Marshall proves herself a potent new talent." — Rue Morgue Magazine
"It is rare to find a book that is lyrical, sweet, powerful, and horrifying (in a good way) all at once. Hair Side, Flesh Side by Helen Marshall accomplishes this with apparent ease." — 
Left Hand of Dorkness
"Masterful horror. In Marshall's dark landscapes, the metaphors are feral and they'll turn on you in a heartbeat." — Mike Carey, author of The Unwritten and The Steel Seraglio
More Metadata!
Iambik Audio ISBN:
9781927472514
Iambik Audio Publication Date:
Dec 03, 2013
Print ISBN:
9781927469248
Print Publication Date:
Nov 20, 2012
Audio Distribution Rights:
Worldwide
Keywords/tags:
authors
,
death
,
emotions
,
family
,
fantasy
,
life
,
literature
,
love
,
nations
,
relationships
,
sex