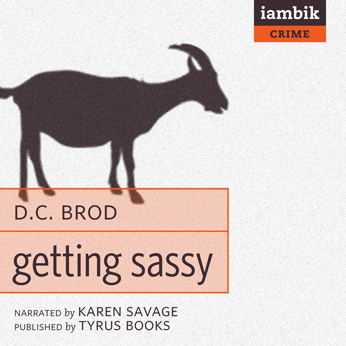 Getting Sassy
Narrator:




Publisher:




Proof-listener:

Linette Geisel



Length:

9:21:28



File Size:

250 MB



Share:

Sample:
Buy from Audible:
Description
With her nearly broke and practically homeless mother about to land on her doorstep, Robyn Guthrie learns that desperation can play havoc with a daughter's scruples. Otherwise, why would she even consider kidnapping a goat and holding it for ransom?
First Line
The idea of stealing the money first came to me as I stood in line at Lundergren's Liquors, my fist wrapped around a six-dollar liter of Chablis.

Reviews
Brod's snappy mystery involves a goat kidnapping, extortion, the complications of mother-daughter relationships, and issues of elder care. Karen Savage shines in her portrayals of all the characters who are making Robyn Gutherie's life hell as she tries to figure out how to get enough money to care for her spunky, fibbing, fading mother. Savage's use of tonal differences and pacing effectively makes each character distinct. Her acting skills do much to keep the listener guessing as new twists add to this Capra-style comedic mystery. A fun listen that will keep you laughing. -- AudioFile Magazine - Read More
Brod (Heartstone) expertly blends suspenseful action with characters readers will care for, in particular his sympathetic and plausible lead. -- Publishers Weekly
... the surprisingly affecting portrait of a woman caught in the midst of a parent's sad but sure mental decline. -- Booklist
More Metadata!
Iambik Audio ISBN:
9781926673219
Iambik Audio Publication Date:
Mar 9, 2011
Print ISBN:
9781935562214
Print Publication Date:
Sep 1, 2010
Audio Distribution Rights:
Worldwide
Keywords/tags:
Crime
,
elderly care
,
goats
,
humor
,
kidnapping
,
mystery
,
racehorses
,
revenge
,
suspense
,
theft