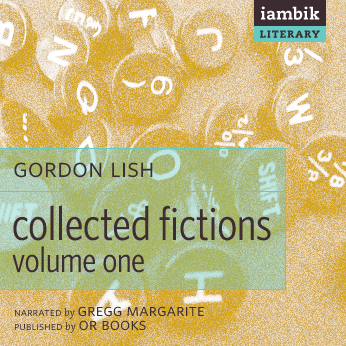 Collected Fictions Vol. 1
Narrator:




Publisher:




Proof-listener:

Mary McCullough



Length:

8:15:23



File Size:

430 MB



Share:
Buy from Audible:
Description
Please see also: Collected Fictions – Volume 2 and Selection of short stories read by Gordon Lish.
This definitive collection of Lish's short work includes a new foreword by the author and 106 stories, many of which Lish has revised exclusively for this edition. His observations are in turn achingly sad and wryly funny as they spark recognition of our common, clumsy humanity. There are no heroes here, except, perhaps, for all of us, as we muddle our way through life: these are stories of unfaithful husbands, inadequate fathers, restless children and men lost in their middle age: more often than not first-person tales narrated by one "Gordon Lish." The take on life is bemused, satirical, and relentlessly accurate; the language unadorned. The result is a model of modernist prose and a volume of enduring literary craftsmanship.
The first volume includes the stories from "How to Write a Poem" to "Fish Story".
Cover image adapted from a photo by Lainey Powell.
First Line
The wife insisted she would tell her version first.

Reviews
"Gordon Lish, famous for all the wrong reasons, has written some of the most fascinating American fiction of the last ten years." – Don DeLillo
"Reading [Lish's] stories is like looking at the gears of a clock that's missing a face." - D. T. Max
"With writing reminiscent of Stein or Beckett, Lish reminds his readers that the actual past and the remembered past are different, and he fleshes out every possible perspective … These details — haunting, funny, ordinary, pitiable — are the real stuff of life." - Boston Review
More Metadata!
Iambik Audio ISBN:
9781926673035
Iambik Audio Publication Date:
Oct 19, 2010
Print Publication Date:
June 15, 2010
Audio Distribution Rights:
Worldwide
Keywords/tags:
beat generation
,
family
,
Fiction
,
free verse
,
funny
,
humor
,
jewish
,
literary
,
love
,
marraige
,
NYC
,
poetry
,
poignant
,
stream of consciousness