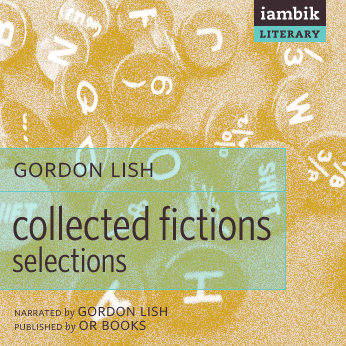 Collected Fictions — Selections
Narrator:




Publisher:




Length:

1:29:36



File Size:

~ 80 MB



Share:
Buy from Audible:
Description
This is a collection of short stories selected and narrated by Gordon Lish himself. The stories are taken from his Collected Fictions.
You can get this audiobook for FREE if you purchase the complete Collected Fictions: Complete Collected Fictions
Cover image adapted from a photo by Lainey Powell.
Reviews
"Gordon Lish, famous for all the wrong reasons, has written some of the most fascinating American fiction of the last ten years." – Don DeLillo
"Reading [Lish's] stories is like looking at the gears of a clock that's missing a face." - D. T. Max
"With writing reminiscent of Stein or Beckett, Lish reminds his readers that the actual past and the remembered past are different, and he fleshes out every possible perspective … These details — haunting, funny, ordinary, pitiable — are the real stuff of life." - Boston Review
More Metadata!
Iambik Audio ISBN: 9781926673127
Iambik Audio Publication Date: Oct 19, 2010
Print Publication Date: Jun 15, 2010
Audio Distribution Rights: Worldwide