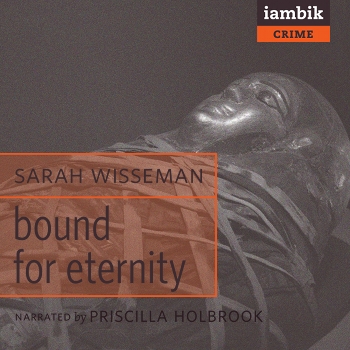 Bound for Eternity
Narrator:




Publisher:




Proof-listener:

Linda Andrus



Length:

6:29:21



File Size:

~ 370 MB



Share:

Sample:
Buy from Audible:
Description
Disappearing artifacts, jealous colleagues, and dead bodies—who says a museum curator's job is easy?
After transporting a newly acquired Egyptian mummy to a local clinic for an X-ray, curator Lisa Donahue safely returns the ancient relic to the Boston University Museum of Archaeology and History. Upon returning to the museum after hours, the widowed young mother is shocked to discover the bloodied body of a colleague in the mummy's vacated case. The two-thousand-year-old mummy contains an enigmatic clue that will help Lisa solve the murder and keep her job. But she must move fast—before someone turns her into a permanent exhibit.
Original cover image by mamamusings.
First Line
The patient came in feet first.

Reviews
"Highly authentic, written by an archaeologist, BOUND FOR ETERNITY is a great read. The museum setting was both eerie and fascinating. I hope to see Lisa Donahue in many books to come." -- Barbara D'Amato, Chicago author of the Cat Marsala series
"A brilliantly compelling novel-If you like mysteries, you'll LOVE this book." -- Nancy B. Daversa-Executive Producer of HMC-TV.
"...Wisseman does a great job of combining 'archaeology for dummies,' 'museum management for dummies,' and a great plot with lots of action and interesting characters to make her first Lisa Donahue mystery provocative, page-turning entertainment. It is always fun to read about mummies, and Wisseman corrects some of the folklore regarding archaeology and mummies. BOUND FOR ETERNITY is crisp and seductive." --Shelley Glodowski, Senior Reviewer, Midwest Book Review
More Metadata!
Iambik Audio ISBN:
9781927472149
Iambik Audio Publication Date:
Jul 3, 2012
Print ISBN:
9780595350889
Print Publication Date:
Apr 22, 2005
Audio Distribution Rights:
Worldwide
Keywords/tags:
archeology
,
Boston
,
classics
,
Crime
,
curator
,
mummy
,
museum
,
mystery
,
Romance
,
series
,
widow
,
young daughter