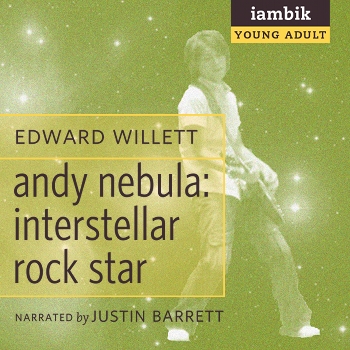 Andy Nebula: Interstellar Rock Star
Narrator:




Publisher:




Proof-listener:

Elizabeth Medeiros



Length:

4:26:23



File Size:

~ 250 MB



Share:

Sample:
Buy from Audible:
Description
Andy Nebula: Interstellar Rock Star is the prequel to Andy Nebula: Double Trouble.
Kit is a tough streetkid from a backwater planet, living hand-to-mouth as a musician, playing in alleys and tube stations and sleeping wherever he can find shelter. Then he meets two people who change his life: Rain, a bright-orange tentacled alien, and Qualls, a talent scout who promises to make him a star. Overnight, Kit becomes Andy Nebula, interstellar rock sensation. But stars don't last forever, and as Kit's starts to fade, Qualls introduces him to another alien called The Dealer. Suddenly Kit and a young female fan find themselves caught up in something a lot less glamorous than the music business – and a lot more deadly.
(Original cover background photo: Prince Roy)
First Line
Cold wind lashed my face; cold rain dribbled down my back.

Reviews
"The action in Andy Nebula moves along at a cracking pace and the characters are well-drawn…Andy Nebula is fast and furious enough to keep even reluctant readers turning the pages, and young teen fans of fantasy and science fiction will not be disappointed." – John Wilson, Quill & Quire
"… gritty and clever…Willett tells a fast-moving tale that has plenty of colour. He wastes few words and presents some good characterizations…All in all, a worthy addition to a young reader's shelf of SF books." - A. L. Sirois, SF Site
"It's the combination of the familiar with the speculative that lifts Andy Nebula above the crowd…From page one we know we are in another time and place thanks to Willett's deft and never-faltering use of a convincing invented slang…. There's a whole lot of story packed into the 166 pages of this trade paperback…Get one copy for yourself, and another for a young person." – Donna Farley