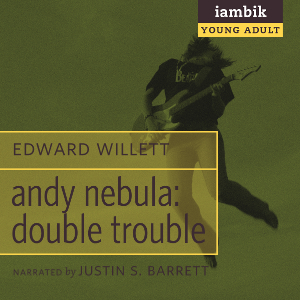 Andy Nebula: Double Trouble
Narrator:




Publisher:




Proof-listener:

Barry Eads



Length:

3:59:43



File Size:

200MB



Share:

Sample:
Buy from Audible:
Description
Andy Nebula: Double Trouble is the sequel to Andy Nebula: Interstellar Rock Star.
Teenage musician Kit is no longer Andy Nebula, interstellar rock star. In fact, he's no longer a star at all. Reduced to playing dingy dives on Earth, he agrees to his friend Meta's request to go back to being Andy Nebula for a one-time benefit concert…only to discover that someone else in the galaxy is passing himself off as Andy Nebula instead. Soon Kit, Meta and their friend Rain, the orange, tentacled alien cop, find themselves caught up in an interstellar assassination conspiracy–with nothing less than the peace of the galaxy at stake!
(Original cover background photo: alonis)
First Line
The beer bottle just missed my right ear before crashing into the brick wall at the back of the stage, spraying me and my battered old stringysnth with a fine, sticky mist.

Reviews
"The action in Andy Nebula moves along at a cracking pace and the characters are well-drawn…Andy Nebula is fast and furious enough to keep even reluctant readers turning the pages, and young teen fans of fantasy and science fiction will not be disappointed." – John Wilson, 
Quill & Quire
 (for 
Andy Nebula: Interstellar Rock Star
)
"… gritty and clever… Willett tells a fast-moving tale that has plenty of colour. He wastes few words and presents some good characterizations…All in all, a worthy addition to a young reader's shelf of SF books." -
 A. L. Sirois
,
SF Site
 (for 
Andy Nebula: Interstellar Rock Star
)
More Metadata!
Iambik Audio ISBN: 9781927472538
Iambik Audio Publication Date: Feb 16, 2015
Audio Distribution Rights: Worldwide