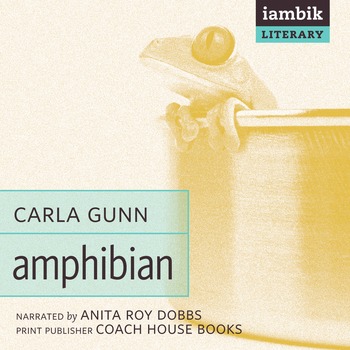 Amphibian
Narrator:




Publisher:




Proof-listener:

Elizabeth Medeiros



Length:

7:17:56



File Size:

~ 380 MB



Share:

Sample:
Buy from Audible:
Description
Nine-year-old Phineas William Walsh has an encyclopedic knowledge of the natural world. He knows that if you wet a dog's food with your saliva and he refuses to eat it then he's top dog, and he knows that dolphins can sleep half a brain at a time. What he doesn't know, though, is why his grandfather died, or why waste-of-flesh Lyle always picks on him. Or why his parents can't live together — after all, when other mate-for-life animals have a fight, it's not like one of them just packs his bags and leaves the country.
To make it to-infinity worse, he's worried sick about what humans are doing to the planet, and his mother is worried sick about him. But shouldn't everyone be losing sleep over the fact that a quarter of all Earth's mammals are on the Red List of Threatened Species? So, when a White's tree frog ends up in an aquarium in his fourth-grade classroom, it's the last straw, and he and his best friend, Bird, are spurred to action.
First Line
This morning Bird and I got in trouble. We were pretending to be spies.

Reviews
"Carla Gunn's prose crackles with energy in this illuminating, heart-gripping novel. A hilarious, brilliant, loveable, exasperating child, Phin and his mesmerizing voice need listening to. The powerful, authentic narrator brings to mind The Curious Incident of the Dog in the Night-Time, but Gunn's an original, and draws us deeply into Phin's many and varied worlds. A compassionate tale balancing light and dark, this is a must-read book." — Sheree Fitch, author of Kiss the Joy As It Flies
"I'm thrilled to promote Amphibian as our number one summer reading suggestion to customers of all ages, many of whom have returned to say how much they enjoyed it. It really has all the elements of a classic in the making. In nine-year-old Phineas Walsh, Carla Gunn has created a narrator that is perceptive, hilarious and frustrating, as he grapples with humanity's seeming indifference to the rapid destruction of our animals and our planet. The issues are urgent, yet the author maintains a light tone throughout that is breathtakingly delightful, heartfelt and ultimately hopeful. It's fresh,timely and very hard to find fault with. I was thrilled to read it and shed light on this gem of a book that might otherwise get lost in the shuffle. It's what independent bookselling is all about." — Andrew Peck, Singing Pebble Books, Ottawa
More Metadata!
Iambik Audio ISBN:
9781926673493
Iambik Audio Publication Date:
Jun 15, 2011
Print ISBN:
9781552452141
Print Publication Date:
Apr 15, 2009
Audio Distribution Rights:
Worldwide
Keywords/tags:
eco-anxiety
,
ecology
,
extinction
,
friendship
,
humor
,
info saturation
,
marginalization
,
reconciliation
,
teenagers