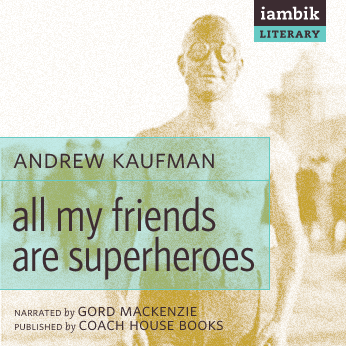 All My Friends Are Superheroes
Narrator:




Publisher:




Proof-listener:

Diana Majlinger



Length:

2:06:18



File Size:

~ 110 MB



Share:

Sample:
Buy from Audible:
Description
All Tom's friends really are superheroes.
There's the Ear, the Spooner, the Impossible Man. Tom even married a superhero, the Perfectionist. But at their wedding, the Perfectionist was hypnotized (by ex-boyfriend Hypno, of course) to believe that Tom is invisible. Nothing he does can make her see him. Six months later, she's sure that Tom has abandoned her.
So she's moving to Vancouver. She'll use her superpower to make Vancouver perfect and leave all the heartbreak in Toronto. With no idea Tom's beside her, she boards an airplane in Toronto. Tom has until the wheels touch the ground in Vancouver to convince her he's visible, or he loses her forever.
First Line
Tom and the Perfectionist sit in the designated waiting area of Gate 23, Terminal 2, Lester B. Pearson International Airport.

Reviews
'This book is like a kiss in the afternoon sun. Somebody should write Mr. Kaufman a letter and thank him for his tender heart and the way he puts things down so gently. I expect this story will replace boxes of chocolates and flowers in courting rituals to come.' – Sheila Heti
"Here, the words 'modern' and 'mythology' hang together in such a wonderfully close and inventive embrace. This is a story that will steal up quietly and seduce with its originality and wit." – Terry Griggs
"Andrew Kaufman's novel is funny like the quiet cracking of a heart. Here's a world so absurdly perfect in its realization that any tangent down a literary rabbit hole pulls up yet another oddball, mind-striking truth. The Fantastic Four was never so phenomenal." – Lee Henderson
More Metadata!
Iambik Audio ISBN:
9781926673004
Iambik Audio Publication Date:
Oct 19, 2010
Print ISBN:
9781552451304
Print Publication Date:
Oct 20, 2003
Audio Distribution Rights:
Worldwide
Keywords/tags:
Canada
,
comedy
,
Fiction
,
funny
,
indie
,
literary
,
love
,
poignant
,
smallpress
,
superhero
,
surreal
,
urban